How to Get Rid of Dry Skin: 7 Best Natural Oils for Dry Skin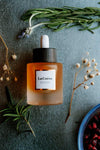 7 Facial Oils to Transform Your Dry Skin Into Bright and Beautiful
Are you experiencing dry, flaky, itchy skin? You don't seem to feel any relief no matter how much moisturizer is applied to your skin. Although it's common, dry skin can be embarrassing and uncomfortable. There are many ways to deal with dry skin. We have a skin care regimen for dry skin that will remove dead skin cells and restore moisture, so you can feel radiant again.
A facial oil can be used to achieve the perfect moisture balance for dry skin. Creams may contain waxes, which form a protective layer on the skin. Oils help to build a lipid barrier that protects and penetrates the skin. Facial oils' ability to quickly absorb vitamins and hydrating acid can help with dry skin. The right oils won't make your skin oily, but they will make it look smoother, more moisturized, and more radiant.
We reveal all about face oils from their use to how they should be used to what skin types you should apply them to. Continue reading to learn everything you need about face oils.
What Are The Benefits Of Face Oil For Dry Skin?
The skin naturally produces oils and lipids, which help prevent skin water loss and keep it hydrated. Dry skin results in a decrease in natural oil production. Facial oils for dry skin can improve skin health. A face oil is best for dry skin types, especially those with flaky, dry patches or tight, dry skin.
We believe that oil can be beneficial for almost all skin types. The key is to choose the right oil that suits your skin. Its molecular weight determines the oil's heaviness, which will impact the skin it can be used.
These are the 7 Best Face Oils for Dry Sensitive Skin
Camellia oil is a member of the tea family. It's a type green tea that is native to Asia, particularly southern Chinais. Camellia oil, a seed oil from Camellia plants, is the secret to flawless skin in East Asian women. Camellia oil is light, fast-absorbing and velvety on the skin. This oil is used to reduce wrinkles and signs of aging.
Camellia oil contains oleic acid, which is rich in oleic acid. It absorbs quickly without leaving a sticky feeling on the skin. Camellia oil is an excellent emollient. It contains tocopherols, polyphenols, which are essential for protecting against the effects of harsh environmental factors such as sunlight. Camellia oil is also rich in vitamins A, E, zinc and magnesium which makes it an excellent hydrating, moisturizing and rejuvenating agent.
Argan Oil
This oil, which is derived from Morocco's argan tree and known for its moisturizing properties, is now considered a staple in skin care. It is rich in soothing vitamin E and anti-inflammatory Linoleic Acid. Studies have also shown that it can significantly improve skin elasticity, according to a 2015 study in Clinical Interventions in Aging. Moroccan Argan Oil contains a high amount of squalene, at a rate of 310 mg per 100g. It is a great choice for people who are concerned about dry skin oil causing breakouts. The oleic acid in the oil can also calm excessive sebum production. It heals as it hydrates, minimizing the appearance of fine lines and scarring.
RELATED: Squalene and Argan Oil, What are Their Differences?
Jojoba Oil
Because it is absorbed into the skin and can heal dryness, the oil from the desert plant jojoba has been a valuable skin care ingredient for hundreds upon hundreds of years. Jojoba is rich in skin-nourishing oils that help keep the skin moist. Its moisturizing properties and similarity with the natural oils of your skin can trick your skin to produce less sebum. This helps prevent dry skin from becoming too oily.
Jojoba oil is very effective in soothing and soothing skin redness and irritation. Jojoba oil has many therapeutic benefits, including the ability to treat skin conditions like eczema and psoriasis.
People with dry skin conditions such as eczema will find relief from chia seed oil. It is a great moisturizer. A study of eight people suffering from Luke pruritus or itchy skin found that chia seed oil could significantly improve skin hydration, skin barrier function, and reduce trans-epidermal moisture loss. It can improve your skin's suppleness and is especially good for mature or dry skin.
Pomegranate Oil
Cold pressing the seeds of the pomegranate fruits yields pomegranate oil. This oil is rich in anti-aging ingredients such as punicic Acid. Punicic acid can moisturize the skin and repair the damage caused by UV light. It stimulates the production elastin, collagen and other important nutrients that can help prevent wrinkles. It has moisturizing and firming effects, as well as soothing and protecting properties. Pomegranate oil stimulates cells in the outer layers of the skin to promote a younger appearance and decrease scarring. All skin types are suitable, including those with acne-prone or dry skin.
Seabuckthorn berry's long history as an "elixir of youth" and one the most nutritious plants on the planet is due to its ancient healing heritage. This anti-aging heritage dates back over 1,000 years. Seabuckthorn oil was first discovered in the Himalayas. It has been used for centuries throughout Asia and Europe. It has many other benefits such as Vitamins A, D and E, Vitamins V, Beta-carotene, Vitamins K and Omega-3, 6, 9 and 6 fatty acids, minerals and vitamin B. These are all great for dry, sensitive skin.
Evening Primrose Oil
Evening primrose oil, a light oil made from the seeds of the evening primulrose flower, is a light oil. This tiny, night-blooming flower can be found in North and South America. It has been used in folk and traditional medicine for hundreds of years. Native Americans used evening Primrose oil to treat skin irritations and bruises. Evening primrose oil can be applied topically to treat a variety of skin conditions, such as dryness and unevenness. These benefits are likely due to the oil's high content of essential fatty acid, including linoleic (which plays an important role in the synthesis ceramides). Even primrose oil contains flavonoids, and other antioxidants to protect your skin against external stressors.
RELATED: How To Get Rid Of Dry Skin: 3 Simple Tips To Relieve Dry Skin
RELATED: Best Skin Care Tips For A Dry Climate
REVITALISÉ Nutrient Organic Face Oil
Keep your skin silky-smooth and youthful with our signature REVITALISÉ Nutrient Organic Face Oil. This pure, nourishing, and nutrients replenishing organic face oil contains all above incredible organic oils, which include total 15 luxury oil concentrate. It helps hydrate the skin and refine skin's texture, while continued use promotes smoother firmer-looking skin. The sophisticated formula is non-comedogenic and suitable for all skin types, including sensitive skin. Apply two to three drops of this unique oil to cleansed, toned skin for more radiant, younger-looking skin.
La Coéss Expert Tip: For an extra-pampering routine, you can use your facial oil to give yourself a rejuvenating facial massage with our White Jade GuaSha Tool (Now offer complimentary gift with purchase for limited supply, use code: GUASHA).
Read More Natural Beauty Blogs
Our Signature Product
REVITALISÉ Nutrient Organic Face Oil
La Coéss® REVITALISÉ is a 100% pure and nourishing nutrients replenishing organic face oil. Sophisticated blends of 15 organic nutrient-dense, powerful botanicals into a silky-smooth texture delivers the exceptional power to revitalize, restore, protect and balance skin.