The Centuries-Old Beauty Secret of Camellia Oil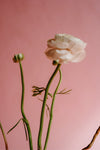 Use Camellia Oil For Naturally Ageless Skin
Camellia oil is one of the latest ingredients drawing much attention of skincare lovers. Almost every skincare product is seen having camellia oil in its ingredient list. Camellia oil is a traditional oil that used in China and Japan for centuries. This oil generated from the Camellia seeds is found to be the secret behind the flawless skin of East Asian women. For that reason, it is an important part of several haircare and skincare products.
What's best about camellia oil is its feather-light, fast-absorbing yet velvety texture on skin. Along with cosmetic benefits, Camellia oil has been used for cooking and medicinal purposes as well. Interestingly in China, Korea, and Japan, this oil has been used to prevent wrinkles and minimize signs of aging.
Camellia oil is enriched with oleic acid which quickly absorbs without giving any oily texture to the skin. Being an excellent emollient, camellia oil contains tocopherols and polyphenols which are extremely important for fighting against harsh environmental factors like sunlight. Also, it is full of vitamins A and E, zinc, and magnesium, which make it a phenomenal hydrating, moisturizing, and rejuvenating agent. Following is a detail of how these nutrients help your skin glow:
 VITAMIN E
Excellent antioxidant to fight against free radicals and oxidative stress.
Efficiently minimizes signs of aging.
Protects the skin from pollution and sun rays by boosting immunity naturally.
VITAMIN A
Highly effective against all types of acne.
Naturally, increase skin elasticity and tightness.
Protecting skin against air pollution and sun rays.
Excellent antioxidant and rejuvenating element.
OLEIC ACIDS (OMEGA 9)
Increase moisture content of skin and hydrate it.
Very helpful in fighting against free radicals and other pollutants found in the environment.
Helps reduce all signs of aging.
Relieves conditions like dryness, redness, and irritation of the skin.
A natural anti-frizz agent which also makes the hair extra shiny.
Has several beneficial properties like anti-inflammation and weight regulation.
LINOLEIC ACIDS (OMEGA 6)
Used as an emulsifier and thickener in cosmetic products.
Enhances moisture content of skin and hair.
Excellent antioxidant and rejuvenating agent.
Proven anti-inflammation and anti-irritation agent.
Helps regulate cholesterol levels that support good cardia health.
SQUALENE
Is found in human skin in the form of sebum.
Exhibits moisturizing effects.
Has been proved to be anti-tumor in nature.
Enhances the natural protective barrier of the skin.
Helps in the regeneration of skin cells.
RELATED: Squalane, Squalene and Argan Oil, What are Their Differences & Which is the Best Skin Oil Ingredient
How to Use It
Camellia oil must be used according to the instructions given along with the product. Some of you might like to mix it with other products for added benefits like anti-aging, dark spot reduction, and glow. But always remember to follow the instructions before mixing the product with other serums or cosmetic products.
RELATED: 3 Most Promising Asian-Inspired Beauty Trends You Should Try
Read More Natural Beauty Blogs
Our Signature Product
REVITALISÉ Nutrient Organic Face Oil
La Coéss® REVITALISÉ is a 100% pure and nourishing nutrients replenishing organic face oil. Sophisticated blends of 15 organic nutrient-dense, powerful botanicals into a silky-smooth texture delivers the exceptional power to revitalize, restore, protect and balance skin.