After 30 Days of Gua Sha Routine - Here's What Happened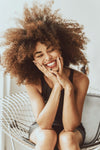 If you've spent time on social media such as Youtube and Instagram, you've probably seen a lot of wellness influencers and beauty gurus talking about a uniquely shaped stone, named Gua Sha. The Facial Gua Sha is a specific type of massage adapted from ancient body healing technique in the East and Southeast Asia that utilizes a scraping tool to encourage circulation and lymph flow.
The idea behind the Gua Sha technique is that light pressure releases facial and muscular tension and moves sluggish lymph fluid. You may think this Gua Sha technique looks like it makes the skin raw and bruised, but don't worry, it is actually far more gentle. This amazing facial technique was introduced in the skincare market years ago and now it's one of the few trends that are here to stay.
To get a long-term result from the use of the Gua Sha technique, you need to put in consistency and self-practice. For the past 30 days, I've used this jade facial tool every day and it has come to my rescue in countless ways. Here are my main takeaways form implementing this practices into my routine.
I Became More Conscious With The Way My Face Holds To Stress
Gua Sha massage gives you far more information about your face. With this technique, you could feel the valleys, the peaks, the diverts, and even the knots in your face. I started noticing the tension beneath my cheekbones, my forehead and every part along the side of my face down to my jawline. I began to understand what my face go through each time I'm worried. This information helped to be to more conscious of thing that gets me worried. Anyone can become more aware of how the face holds stress through this Gua Sha facial massage.
My Face Got More Sculpted Looking
Gua Sha has found a cult following as a "Natural Botox". I always have deep fine lines on my forehead, so I was hoping it could help on easing up my forehead lines. After the practice, I notice they got smooth but they returned after a while. I really didn't pay attention to the result, instead, I paid more attention to the amazing feeling I get after it. However, I was so surprised to find that my skin looks more sculpted, lifted, and buoyant.
I Felt More Mentally Energized and Motivated
I recently became curious if there's some sort of morning routine that ensures a more productive and fulfilling day? All research points to yes. And a huge part of has to do with clearing your mind. I use Gua Sha part of my morning to clear my mind. I took everything slowly, although it was difficult at first, when I eventually got myself around it, I was surprised on much my skin needed to breathe, and the sensation I felt underneath my skin. Doing this as the first thing in the morning made me more energetic. And being able to take on my daily routine as I should with the full attention by achieved something first thing in the morning.
How To Starting Your Own Practice
There are so many tutorials and step-by-step guides on how to effectively treat yourself to this type of facial. Once you have the principle guidelines down, you can make it your own, just listen to your body.
Started at first with your neck and then the jawline. Then, you can start from the center of your forehead, down to your hairline and then to your ear until you get to your neck again. Do the clean sweep several times.
When moved on to the eye area. Consider how delicate this area is, it is recommended that you make a slow and light stroke through the area. Start from the side of your nose, and work your way up to your temple. Imagine taking the stagnant lymph from the center of your face up to the temple, and then all the way to your hairline.
You're Going To See Results 
I made some wrong turns, or even missed some steps, but after using the Gua Sha technique for over three weeks, I'm finally getting acquainted with it. I use this technique after my normal skincare routine of using Face oil – I noticed it's the most beneficial, as it help the skin absorbing the oil into the skin more efficiently. It is also an amazing way to spend the last few minutes of your time relaxing before heading out for work.
I highly recommend taking a before and after photo! Doing gua sha here and there is great for anyone in searching of a tool to help in maximizing the efficacy of their skincare routine, but consistency is ALWAYS key to real and lasting results.
Would Gua Sha Help Relieve Migraines?
If you suffer from headaches and migraines periodically, anything that can help relieve the pain would worth a try. A study that's often referenced about the benefits of using gua sha for pain is that of a 72-year-old woman who saw a reduction in her chronic headaches after 14 days of using gua sha. So next time if you feel a headache creeping up on you, use Gua Sha to massage the tension areas, such as the forehead, scalp, and the area between your brows. Gua Sha is certainly a helpful support act. 
Read More Natural Beauty Blogs
Our Signature Product
REVITALISÉ Nutrient Organic Face Oil
La Coéss® REVITALISÉ is a 100% pure and nourishing nutrients replenishing organic face oil. Sophisticated blends of 15 organic nutrient-dense, powerful botanicals into a silky-smooth texture delivers the exceptional power to revitalize, restore, protect and balance skin.