How To Improve Your Complexion For A Glowing & Radiant Skin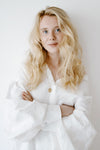 Best Ways to A Brighter Complexion
Who doesn't like radiant and fresh skin? And to reach this goal everyone chooses different paths. Some go for a loaded lengthy skincare routine others go for minimal products. But the real solution lies in between these two. Just following these seven basic steps, you can turn your skin into a glowing version anytime around the year.
Use Gentle Exfoliation
Dead skin cell layers are another cause behind your skin looking dull and gloomy. Removing dead skin layers, also known as exfoliation, is the key to helping your skin products reach deeper into the skin rejuvenating it from within. That is why you must exfoliate regularly but not use harsh chemical exfoliators. Because of their intense formulation, the chemical exfoliators can even rip off your healthy skin cell layers and cause sensitivity and infections. For a gentle exfoliation, try to use a mild formulation to gently remove dead skin cells while keeping your skin healthy and safe.
Hydration is The Key
Nothing works for the skin without hydration. No matter how expensive the products you use, properly hydrated skin is one of the most crucial steps for you. Dehydration not only causes skin breakouts but also initiates stressed reactions. Because of dehydration, your skin starts producing excess oil which results in inflammation and can trigger acne. It also causes your actual complexion to become dull. So, to save your skin from all such problems, La Coéss REVITALISÉ Organic Face Oil comes to your rescue. It contains nourishing ingredients like rosehip, camellia, grapeseed, and chia seed will make your skin resilient and glowing. 
Add Nutrtients Enhancing Oils
Enriching your skin with vital oils and good ingredients is extremely important for your skin. The nourishing essential oils are great for new skin cell generation and help your skin breathe. From thousands of oil options, the best recommendation would be La Coéss REVITALISÉ Organic Face Oil enriched with 15 potent organic botanical oils, such as evening primrose, avocado, and argan, which will brighten up your skin quickly and most importantly naturally.
Balancing With Well-Formulated Botanicals
A balanced skin tone is the most attractive skin tone. Having an uneven skin tone with dark spots and scars just kills the charm of your skin. For that, it is very important to invest in good balancing botanical products to even your skin tone along with brightening it up. The La Coéss REVITALISÉ Organic Face Oil is one such product made from the most unique and essential phytonutrients extremely necessary for your skin. The ingredient list includes a lemon peel, mineral silica, sea buckthorn, omega 3, 6, 7, and 9 all blended in to make the best combination for making your skin bright and even skin tone.
Give Your Face A Gua Sha Massage
After performing all the previous steps, a Gua Sha massage would be a cherry on top. Giving your skin a Gua Sha massage daily will help it rejuvenate, regenerate, and recover from all previous issues. Increasing your blood circulation and lymphatic drainage, Gua Sha will give your skin a natural radiance and glow.
Consume a Balanced Diet
A balanced diet is one of the most important steps of all! Your diet defines your internal body functioning which in turn reflects your skin. Always try to keep your diet enriched with foods high in fatty acids like walnuts, fish, and flaxseeds. Along with these also incorporate natural antioxidants found in tomatoes, fresh fruit juices, and pumpkin seeds. These fatty acids and antioxidants are essential for your gut, and a healthy gut makes healthy skin.
Read More Natural Beauty Blogs
Our Signature Product
REVITALISÉ Nutrient Organic Face Oil
La Coéss® REVITALISÉ is a 100% pure and nourishing nutrients replenishing organic face oil. Sophisticated blends of 15 organic nutrient-dense, powerful botanicals into a silky-smooth texture delivers the exceptional power to revitalize, restore, protect and balance skin.