The Best Anti-Aging Antioxidants For Your Skin, Backed By Science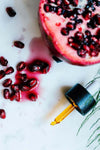 Antioxidants are the ultimate must-haves for your skin. Several pieces of research are in support of the fact that antioxidants are extremely important for your health. Antioxidants can completely rejuvenate your skin. Not only the skin is benefitted from them but your overall health improves. The best way to achieve optimal goals would be coupling the antioxidants with other refreshing ingredients to create the ultimate combination.
Which Antioxidant is Most Effective?
Antioxidants surely give us a tough time choosing the best one out of all. Each one of the antioxidants has its way of promoting skin health. It would be extremely difficult to choose the best one out. Antioxidants often refer to a group of ingredients that work for a same purpose, that is fighting free radical damage. Let's have a look at some of our favorites:
Vitamin E
Vitamin E, or tocopherol, is one of the most famous antioxidants, and surely for a reason. Vitamin E can be obtained both naturally and synthetically. The natural forms are way more beneficial than the synthetic ones. Research has also supported the role of vitamin E in skin replenishment.
What does Vitamin E do?
Vitamin E protects the skin in a very systematic manner. It acts as your skin's defense against harmful external elements keeping it revitalized. Out of its several benefits, the most important is protection against UV rays. This ability of vitamin E makes it an integral part of good quality sunscreens. Vitamin E works best in combination with vitamin C. Both of them together exhibit great anti-aging effects. Look for vitamin E in anti-aging skincare products such as moisturizer, serum, and face oil.
CoQ10
CoQ10 is a naturally occurring coenzyme from our body, that is extremely vital for your skin. It is a major contributing factor in the repair and regeneration of skin cells. Skin being the body's first line defense mechanism, is constantly exposed and affected by the UV light rays. As a result, free radicals get released and initiate further harmful reactions. So, CoQ10 prevents these damaging reactions and promotes skin health and elasticity.
What does CoQ10 do?
CoQ10 is the major energy source for the repair and regeneration of damaged or old skin cells. Which implies that it helps fight the signs of aging. It will help prevent lines and wrinkles making your skin look young and fresh. The most important part of your skin is collagen. Collagen repairs damaged body cells, shields delicate organs, promotes elasticity of muscles and improves bone strength. CoQ10 encourages collagen production, which would ultimately endow all these amazing health benefits.
Vitamin C
Vitamin C is one of the most widely used antioxidants and has proven benefits against fine lines and wrinkles. It also helps even skin tone giving your skin a much fresher and brighter look. Supported by research vitamin C is surely the greatest anti-aging antioxidant your skin needs.
What does Vitamin C do?
Vitamin C binds and removes free radicals from skin and gives it an extra brightness and glow. It also keeps the skin tissues firm and gives a smooth texture to your skin. Vitamin C plays a major role in making your skin radiant and younger-looking. It helps even your skin tone and brightens dull skin. It also has a hydrating and smoothing effect to your skin.
Retinol (Vitamin A)
Retinol found in eggs and vegetables like carrots and sweet potatoes is synthetically derived from vitamin A. These fat-soluble vitamins provide various benefits to your skin that most of you would be unaware of.
What does retinol do?
Just like other antioxidants, retinol also reduces the signs of aging. They increase the production of collagen and new blood vessels, which improves the blood supply and ultimately refreshes your skin. Improving cell turnover also helps achieve a brighter skin tone. Retinol even downs rough patches on the skin making it smoother than ever. The thing to keep in mind is that all these benefits are linked with consistent use of retinol. Regular use of retinol for 6-12 months provides the best results.
Knowing your skin type before beginning a skincare routine is very important. Retinol can cause your skin to dry and sensitive. You may also keep in mind that applying sunscreen is very important when following a retinol routine. If you're seeking for natural alternative of retinol, here are the best plant-based retinol alternatives you can use.
Green Tea (Camellia)
Green tea contains polyphenols, also known as catechins, which is the main active compound to combat signs of premature aging.
What does green tea do?
Applying green tea (or camellia seed) extract on your skin can act as a shield against damaging environmental factors. Study shows that green tea not only has anti-inflammation, anti-carcinogenic properties but also reduces redness on your skin. It also has a soothing and calming feel on your skin. Always look for green tea to be an ingredient of the skincare products you use, especially ideal if you have sensitive skin. 
Read More Natural Beauty Blogs
Our Signature Product
REVITALISÉ Nutrient Organic Face Oil
La Coéss® REVITALISÉ is a 100% pure and nourishing nutrients replenishing organic face oil. Sophisticated blends of 15 organic nutrient-dense, powerful botanicals into a silky-smooth texture delivers the exceptional power to revitalize, restore, protect and balance skin.