Do You Apply Face Oil Before or After Moisturizer [Infographic]?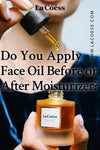 Your Skincare Routine Order Explained: The face oil debate is settled!

We often get questions like where certain products should fit into their routines. Face oil is one of the most effective skincare product when it come to keep skin from getting dehydrated throughout the day and give complexion a glowy finish. When to apply a face oil. Does it go before or after moisturizer? Read on to find out.
Read More Natural Beauty Blogs
Our Signature Product
REVITALISÉ Nutrient Organic Face Oil
La Coéss® REVITALISÉ is a 100% pure and nourishing nutrients replenishing organic face oil. Sophisticated blends of 15 organic nutrient-dense, powerful botanicals into a silky-smooth texture delivers the exceptional power to revitalize, restore, protect and balance skin.