The Beauty Benefits of Chia Seed Oil, the Superfood, Super Moisturizer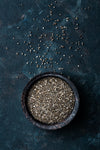 I love an ingredient that I can slather on my face and stir into a smoothie, which is true for chia seeds. The oil extracted from chia seeds has incredible beauty benefits for skin care formulas. Chia seed oil is loaded with omega-3 fatty acids, also has anti-inflammatory and antioxidant properties. These qualities will restore the moisture of your skin, reduce inflammation, diminishing redness, as well as smooth the look of wrinkles, leaving a soft, evened skin.
Now let's look at what happens, when you apply this miracle oil to your skin.
Incredibly Hydrating
Chia seed oil is an incredibly good moisturizers and does wonders for people dealing with eczema and other dry skin problems. An eight-week study on people with skin conditions Luke pruritus and itchiness, found that chia oil was able to significantly increase skin hydration and skin barrier function while also reducing trans-epidermal water loss.

What is best about chia seed oil is how lightweight and easy to absorb it is, so even with oily skin, you won't have to worry about a greasy residue.
Strengthens Skin Barrier
A healthy barrier is a foundation for a beautiful complexion, especially for those with sensitive skin. Our skin barrier is usually weakened by environmental factors, such as pollution and UV rays. Chia seed oil is one of the richest plant-based sources of Omega-3s that exists, combined the omega-6 fatty acids in the oil can help to reinforce this barrier thereby preventing wrinkling and sagging.
Reduces Inflammation (and Itchiness)
The high content of essential fatty acids in chia seed oil has been shown to reduce the inflammatory response and help heal cracked and irritated skin. The presence of vitamin B3 and zinc in chia seed oil is also potent nutrients to help reduce acne and other types of inflammation in the skin.
Combat UV Damage and Prevent Dark Spots
The UV rays from the sun can cause free radical damage to the skin, which can lead to lines and dark spots. It is why it's so important to use sunscreen when you are being exposed to sunlight. However, if your skin has damaged from excess sun exposure, the potent antioxidant in chia seed oil can help. In addition, according to dermatologist Rachel Nazarian, chia seed oil can help minimize dark spots as well.

Chia seed oil is a powerhouse of nutrients. And the best thing about chia seed oil, though, is that anyone can benefit from it. It helps boost your skin's suppleness, it's especially great for dry or mature skin. The moisturizing properties of this oil is just fantastic and will help reduce any skin inflammations you might have.

Want to reap the benefits of chia seed oil? Try our facial oil, which is packed with the good stuff - organic chia seed Oil and other 14 potent organic botanical ingredients to unveil soft, smooth and youthfully vibrant skin.