The Surprising Benefits of Using Face Oil on Oily Skin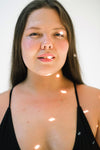 Is It Possible To Use Face Oil If You Have Oily Skin?
You thought face oils were only for dry skin? Although some oils can aggravate oily skin and cause excess sebum production to increase, other oils can regulate the production of sebum and help restore the skin's delicate balance. Even if your skin is oily, face oils should be part of your skincare routine. Find out our top face oils for oily skin, and how to use them.
Sebum, contrary to what you might think it is, is not your enemy. It helps keep your skin hydrated and forms a protective film that shields you from daily aggressors. An imbalance can cause excess sebum to build up, which gives the skin a shiny look. As the amount of sebum buildups, pores get larger and clogs up, leading to spots, blemishes, and blackheads. You must listen to your body and make sure you get enough sleep. However, it is also important to use the right skincare products to treat your skin.
All those myths are nonsense. Oily skin is not a problem, but it does require that it be properly hydrated. If the skin isn't properly hydrated, it could produce more sebum to compensate. This can lead to an oily skin cycle.
Be careful when choosing your skincare products. Some products for oily skin can be very harsh and leave your skin more sensitive than normal. It's better to choose natural, organic skincare products that are gentle on your skin and will adjust to your skin's needs.
Botanical oils are rich in powerful active ingredients that can be used to treat skin conditions. They also offer a natural and beautiful way to restore your skin's natural health, even if you have oily skin. You can use them as an active ingredient or pure oil, depending on the skin issues. When oils contain the right active ingredients, they won't stimulate oil production.
La Coéss believes in the incredible powers of botanical oils. We believe that these plant-derived oils can have healing properties and you can trust them to take care of your skin (and your health).
We will give you the inside scoop on using face oils in your oily skincare routine. We will also share our top face oils for oily skin with tips and tricks on how to use them. Continue reading to find the ultimate La Coéss' guide for oil-based skin care.
What are Face Oils Used for?
Although face oils can be used for many purposes, most are used to moisturize and soften skin. This helps promote a smoother texture. This may seem counterintuitive if your skin is oily.
Although they are all called "oils", [face oils] can be used in a variety of ways. No matter what skin type or concern, there's a facial oil that will suit everyone. Facial oils come in a variety of formulas that address unique problems. It is important to find the right formula for you.
RELATED: How To Create a Super Simple & Effective Natural Skin Care Routine
REVITALISÉ Nutrient Organic Face Oil
Oils that moisturize and nourish your skin are best used at night. We recommend REVITALISÉ Nutrient Organic Face Oil which includes organic rosehip oil, prickly pear oil, argan oil, evening primrose Oil, and jasmine extract. This La Coéss' signature oil absorbs quickly, and it helps to replenish skin at night when it is most open to healing itself from daily stressors. It helps to boost essential moisture, making skin look silky smooth over time. As part of your nighttime skin care routine, we recommend that you apply several drops to slightly dampened skin and let it absorb completely before applying your night cream.
Pro tip: To increase hydration, use a moisturizing cream with your face oil. It replenishes skin's water while you sleep, resulting in hydrated skin that is brighter and healthier by the morning.
Will Face Oils Clog My Pores?
Facial oils can be difficult to use if your skin is oily. This is especially true if you are prone to blemishes. We get it. The idea that oil could help reduce oil is counterintuitive. A common skincare practice was, until recently, to avoid oil-based products for oily skin.
Recent studies have shown that oils, specifically non-comedogenic ones, such as rosehip oil, can help balance the skin. Because dehydrated skin tends over-produce oil to compensate for lack of moisture. Excessive oiliness eventually leads to clogged pores and more frequent breakouts. This can lead to shiny skin. Oily skin can reap the benefits of using face oils, provided they are the right type.
3 Tips To Use Face Oils for Oily Skin
We'll show you how to use these best oils for oily skin now that you know what they are. Continue reading to find our top tips on how to incorporate facial oils into your skincare routine.
Tip #1 Always clean first
It is important to wash your face well before applying your face oil. Your skin will feel softer and more hydrated if you apply your face oil after washing it.
Double-cleansing is a great way to deep clean your skin. Double-cleansing involves washing your face first with an oil cleanser and then washing it again with a foaming facial wash. If you're interested in trying this technique, you can find more information about this technique here.
Tip #2 Apply Your Water-Based Treatments First
After washing and drying your face, you can go ahead and apply your skin treatments—essences or serums. Remember that oils are often less than you need. A few drops will usually do the trick for your entire face.
Pro tip: To make your skin feel extra luxurious, you can use a beauty tool like a jade gua sha to apply your face oil before applying your moisturizer.
Tip #3 Use your face oil before you apply your moisturizer
You can add face oil to your routine before you apply anything on your cleansed skin. Apply face oil to your slightly damped skin, and then apply your moisturizer. This can helps the nutrtients penetrate deeper into the skin. Skin feels softened and hydrated after just one application.
Read More Natural Beauty Blogs
Our Signature Product
REVITALISÉ Nutrient Organic Face Oil
La Coéss® REVITALISÉ is a 100% pure and nourishing nutrients replenishing organic face oil. Sophisticated blends of 15 organic nutrient-dense, powerful botanicals into a silky-smooth texture delivers the exceptional power to revitalize, restore, protect and balance skin.