How To Use Skincare Tools For Best Results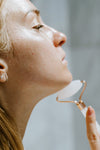 At-Home Skincare Tools that Actually Work
We talk a lot when it comes to skincare. It is so important to know the basics of your skincare routine. Once you get in a rhythm with your skin, it's hard to go back. Let me suggest a category that can make a huge difference to your skincare routine. Skincare tools.
Just like a great skincare regimen, you will be amazed at how much you can do with a tool that makes your life easier. These tools can be a great complement to your existing routine.
These steps can make a difference in your skin's health and may help you feel calmer. These steps are a perfect combination of self-care and skincare. You can easily add some pampering to your everyday routine by using skincare tools.
You can use your favorite skincare products alongside jade rollers, guashi stones, and metal-eye-rollers. This guide will help you understand how to incorporate tools into your daily routine. Continue reading to find out how to use gua sha rocks, skincare rollers, and other skin care devices. We also recommend the best products to pair with them.
1. GUA SHA STONE
You can make these flat stones from many different kinds of crystals. The most popular are rose quartz or jade. You can find them in many shapes, from simple rectangles to butterflies to crescents to rectangulars. Gua sha rocks can be used in facial massage similar to jade rollers. Instead of rolling the tool, you glide and sweep the tool across your face. Gua sha can be used to increase circulation in the same way as other types of facial massage. Gua sha can be used to visibly lift, tone, and reduce the appearance of your skin. It can also de-puff and revive dull skin.
How to Use:
Depending on your goals, there are many ways to use a jade gua sha rock. You can change the direction that you work in and use different edges to make it more versatile. The same movements can be used for jade rollers. You can angle the stone at 45 degrees, and then stroke upwards in the direction of your face's perimeter.
Before you start the massage, wash your skin well and apply a good amount of moisturizer or face oil to it. La Coéss REVITALISÉ Nutrient Organic Face Oil is a great option, it can help reduce the appearance of skin redness and provide relief from discomfort. It also balances hydration. This oil is non-comedogenic and contains organic-derived Rosehip seed oil It can be used on all skin types including sensitive and blemish-prone. This antioxidant-rich formula gives skin a healthy, radiant complexion.
RELATED: Gua Sha Tool Vs. Jade Roller - What's the Difference?
2. METAL EYE ROLL
Smooth sides make the round metal orb ideal for gently gliding over your eye area, without pulling or tugging at delicate skin.
How to Use:
It is easy to use and very intuitive. After washing your skin, apply a moisturizing cream or face oil. Place the eye roller under your eye starting from the inner corner. Gently move the eye roller in an outward direction, taking care not to press too hard. Continue this motion for several minutes or until you feel your eyes are rejuvenated.
3. ICE SPOOON
Ice-rolling is a popular skincare trend. You can put it in your freezer to keep it on ice. An ice spoon can be used to de-puff. It is similar to applying ice after an injury can reduce swelling. Cool compresses can be useful for under-eye bags. Also, a chilled ice spoon can feel soothing and refreshing on your skin.
How to Use:
The process of using an ice spoon is the same as any other type of facial roller. However, you will need to freeze it first. After it has cooled, gently press the ice spoon onto your skin. After you are done, clean the tool and place it in the freezer.
4. FACIAL ROLLERS
A facial roller, a hand-held massaging tool made of stone, usually has two ends. One is larger than the other. The rolling action of the facial roller's rounded heads allows it to perform lymphatic massage, a gentle form massage that stimulates lymph fluid flow and reduces puffiness. Facial massage may have an antiaging effect and can improve skin blood flow.
Jade rollers and gua sha are used in Chinese culture for centuries. They purportedly increase circulation and reduce swelling by helping to remove excess fluid. They were believed to have been part of the beauty regimen of emperors. Rose quartz stones are believed to have calming qualities and encourage self-love. This makes them ideal for self-care rituals.
How to Use:
You can use either a rose quartz or jade face roller. Apply a serum or oil to your face and neck. A facial roller can help spread the product evenly over your skin. After applying your chosen formula to your skin, smoothen it out. Next, roll the larger stones upwards towards the underside of your chin. Roll each section three times in an upward-and-outward motion starting at the middle of your face. From the middle of the forehead to your ears, move across. Use the small stone to work in between your eyes, around the orbital bone and down the middle of the nose.
La Coéss REVITALISÉ Nutrient Organic Face Oil is perfect for a face massage. This light hyaluronic-acid serum is suitable for all skin types. It helps to increase radiance and resilience for healthy-looking skin.
RELATED: Lift & Revitalize The Skin With This Jade Gua Sha Tool
Read More Natural Beauty Blogs
Our Signature Product
REVITALISÉ Nutrient Organic Face Oil
La Coéss® REVITALISÉ is a 100% pure and nourishing nutrients replenishing organic face oil. Sophisticated blends of 15 organic nutrient-dense, powerful botanicals into a silky-smooth texture delivers the exceptional power to revitalize, restore, protect and balance skin.