Take Your Skin Hydration to The Next Level With Face Oil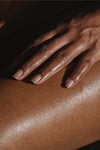 The Best Moisturizer That Can Make Dry Skin Glow
Oils moisturize. This is definitely true, in fact, they are very similar in their composition. A triglyceride is a glycerin molecule with three different types of fatty acids attached. Oils moisturize by strengthening and supplementing the skin's barrier. This in turn helps to trap moisture. All oils moisturize differently. It all depends on the oil's lipid content.
Oils moisturize by acting as an occlusive, which helps to lock in moisture. But that's not all they do. Oils can also be used as emollients to make the skin feel smoother and retain its hydration. This assumes that the skin has already been hydrated prior to the oil being applied.
Oil's role in moisturizing the skin is explained by the bricks, which are skin cells. The mortar is made of lipids. Under harsh conditions, the mortar can be removed. This can dry out the skin. To moisturize the skin, oil can be used to replenish the lipid layer. The skin will stay hydrated by a strong skin barrier. It's worth noting, however, that face oil moisturizers work differently from cream and lotion moisturizers. These moisturizers typically contain both oils as well as hydrating ingredients in one formula.
What's Skin's Natural Moisture Barrier Made Of?
Everybody has a natural moisture barrier in their skin's top layer. This is the body's way to protect skin from external and environmental irritants such as mold, bacteria, or pollution. Our skin stays healthy and protected when our natural moisture barrier works well. This barrier can become weaker if our skin is not protected and more prone to irritation. Sebum is the natural oil that our skin produces. Oil protects us from dryness and provides a moisture barrier.
What's Face Oil?
You're likely looking for a product that locks moisture in your skin if you have dry skin. If you have oily skin you might be staring at the word "face oil product" in horror. You can also use face oil, so prepare to be amazed.
Face oil, as the name implies, is an oil or mixture of oils that can be applied to the skin as a moisturizing agent.
It's not a new idea to apply oil to the skin. Face oils are a common practice in many cultures. They are seeing a revival these days. Face oils are gaining popularity due to consumers being more environmentally conscious and being more careful about what ingredients they use. Oil-based products for skin care typically contain less preservatives, chemical additives, and fewer dyes and potentially toxic ingredients. Many oil-based companies operate with stricter environmental and sustainability standards than other skin care companies.
It's not just people with dry skin that use oil to smoothen their faces. Face oils are available for all skin types, even oily or acne-prone. They feel luxurious and part of a self-care routine.
The Benefits Of Using A Facial Oil
Face oils offer a variety of skin care benefits.
These products nourish dry, cracked skin. Oil-based skin care is the best at treating chapped, red, or inflamed skin. Many oils, such as almond oil, have moisturizing fatty acids like omega-3 and 6 fatty acids. This helps to lock in moisture and soothe skin. Oils can also improve the skin's barrier function, which is crucial for dry or inflamed skin.
They retain moisture underneath makeup.
Flaky skin can be caused by dry skin. A face oil applied before applying makeup helps to combat this.
They can reduce wrinkle appearance.
These products are lipophilic and can penetrate skin more deeply than aqueous-based ones. This helps to plump and deliver nutrients into the skin.
They may also contain anti-aging ingredients. Many oils such as grapeseed oil, chia seed oil and rose hip oil are rich in antioxidants that protect skin from wrinkle-inducing UV damage and environmental exposures.
Oil helps to combat dryness caused by acne medication.
Face oils are great for people who use acne medication that dry the skin like spironolactone or retinol. These medications can be counteracted by adding a face oil to your daily routine.
What Should You Look For In An Oil Moisturizer For Dry Skin?
We recommend using face oils with ingredients like rosehip, grapeseed, argan, prickly pear, and jojoba.
Because these oils have a smaller molecular structure, they can sink into the skin and not clog pores. If the molecular size of an oil is too large, it will not penetrate the skin's top layer, which can lead to clogging pores.
It is best to avoid fragrance-laden oils if you are sensitive or allergic to oil. A tea tree oil-containing facial oil is recommended for those with sensitive skin and a healthy skin barrier. It is antimicrobial, can reduce the number of bacteria, yeast, and dermatophytes (a type of fungus) and it can be used to treat them. Avoid oils that can cause pore-clogging (potentially comedogenic) problems, such as coconut oil.
RELATED: The Surprising Benefits of Using Face Oil on Oily Skin
Read More Natural Beauty Blogs
Our Signature Product
REVITALISÉ Nutrient Organic Face Oil
La Coéss® REVITALISÉ is a 100% pure and nourishing nutrients replenishing organic face oil. Sophisticated blends of 15 organic nutrient-dense, powerful botanicals into a silky-smooth texture delivers the exceptional power to revitalize, restore, protect and balance skin.