Here's What Happened After A Whole Year of Gua Sha Routine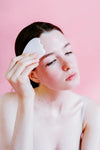 One Year of Gua Sha Routine Before and After
In June last year, I was having a face wash and my image in the mirror caught my eyes. I was stuck for a few moments looking at a face that seemed to have aged 10 years in the past several months.
It wasn't a pleasant sight, so I rummaged through my drawer containing skincare products to see whether the remedy to my situation lay there.
After going through object after object; from expired masks, old face toners, and used serums, I finally stumbled on the gua sha facial tool that I hadn't used perhaps more than once. 
In case you're hearing about gua sha for the first time, it is a natural skincare therapy that involves scraping your skin with a massage tool to improve your circulation. Ancient Chinese practice holds that the technique offers anti-aging and health benefits. You can use Gua sha on your entire body, while applying the gentler version on your face to improve your jawline, ease tension on your face, and improve your cheekbone, amongst other things.
RELATED:  Can Gua Sha Transform Your Skin? Here's Why This Ancient Practice Is Having a Modern Moment
So back to my story; since I had found the gua sha facial tool, I decided that I might as well put it to good use. I went on YouTube and watched a 5-minute video showing me what to do with it.
I began a Gua sha facial challenge where I had to do Gua sha facials twice every day for a month. I did it once in the morning and once at night for 30 days. And if you want to learn more about implementing gua sha routine for 30 days, check out the explainer here.
RELATED: After 30 Days of Gua Sha Routine - Here's What Happened
After concluding the month's challenge, I loved the results. Now, I committed to a one year practice. In the coming paragraphs, I will be sharing what I learned and experienced having done Gua sha every morning and night for almost one year.
My Skin Looked Much Better Than A Year Ago
If I'm being honest, I didn't pay attention to how much change may or may not appear on my face after a year of gua sha facials. I had seen great results after a month that I was already so satisfied. 
However, my skin showed a lot of difference within the period I have been using gua sha. My forehead lines reduced noticeably, although not completely. My skin looks more attractive, sculpted, and just lovely! I have a constant vibrant and lively look on my face all the time, and it is great to see such a look on me.
My favorite thing about gua sha is that the method perfectly gets rid of my puffy face every morning. 
Skin Showed noticeable differences When I Stopped 
Call me curious, but I wondered what would happen if I took a break from gua sha after using it diligently every day. I wondered whether there would be a gradual change, drastic change, or no change at all.
So, in November 2020, I took a break from gua sha skincare for a few weeks. In those weeks, I noticed that my skin felt different like something was missing.
The color in my cheeks, the accentuated cheekbone, and even the extra lift began to disappear, leaving my cheek less radiant than it used to be.
Not Much Cumulative Effect
Before beginning the gua sha facial process, I was curious as to whether the facials would leave a lasting effect on my face and skin even after stopping.
However, it doesn't. Immediately after I stopped the facials, my face and skin gradually started going back to their previous appearance.
I wasn't very surprised because I had noticed earlier that the effects seemed to be short-term, even during the day. For instance, I looked and felt great after the process in the morning, but by night, all the effects had worn off.
I also don't think it did anything to improve the appearance of fine lines on my face.
It's Better To Use Both Jade Roller And Gua Sha Tool
Facial rollers are more suited for beginners. I got a hang of it after watching a few tutorial videos. It glides smoothly over the skin, so I didn't bother with applying face oil before using it on my face.
A standard facial roller has two differently-sized roller ends. I use the smaller end for the area under my eyes and go from the corners of my face to my temples. I then used the larger end for my jawline and the other areas of my face.
The flat jade gua sha offers your skin similar benefits as the jade roller. However, the jade gua sha is more intentional and more targeted, which makes you get more transformative results from gua sha than the jade roller.
If you need a detailed explanation on how to use Gua sha on your face, check out our previous post. Be sure to apply La Coéss REVITALISÉ Face Oil to your skin evenly before practising gua sha facial.
RELATED: Gua Sha Tool Vs. Jade Roller - What's the Difference?
Final Thoughts
After my experience with gua sha facials so far, I will continue with the skincare routine, and I would also recommend it to anyone looking to try it out.
The process takes just 5 minutes or thereabout, and the resultant look and feel are very much worth the time, even if it is short-termed.
The skincare routine is very relaxing at night before bed, and it gets me in my feelings in the morning like there's something special happening.
The time spend carrying out my daily routine also became a relaxation time for me. I would spend time introspecting, checking myself, and making positive changes to myself in those minutes.
How To Starting Your Own Practice
Many step by step guides and tutorials are available to show you how to carry out this facial. Once you get the principles from those tutorials, simply pay attention to your body and begin.
Begin with your neck and go on to your jawline. Begin again at the center of your forehead and head downwards to your hairline. Navigate to your ear, and from there to your neck. Carry out several clean sweeps.
The eye area is delicate, so go slow around that region using a light stroke. 
Begin at the side of your nose and go up to your temple in a motion as if you are moving the stagnant lymph up to your temple from the center of your face, and then take it higher up to your hairline.
Read More Natural Beauty Blogs
Our Signature Product
REVITALISÉ Nutrient Organic Face Oil
La Coéss® REVITALISÉ is a 100% pure and nourishing nutrients replenishing organic face oil. Sophisticated blends of 15 organic nutrient-dense, powerful botanicals into a silky-smooth texture delivers the exceptional power to revitalize, restore, protect and balance skin.