The Best Way To Tighten The Look Of Your Skin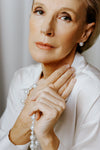 Antioxidants: The Solution to Tighten The Look Of Your Skin
Getting older is something worth embracing for all of us! We gain wisdom, insight, and life experience as we age. However, sagging skin is a normal part of aging, it can be frustrating when you notice sagginess around the neck and jawline.
It's normal for skin to lose its ability to bounce back. However, this is something you shouldn't be ashamed of. There are solutions for those who feel the loss of skin elasticity is troubling them. Let's explore how La Coéss REVITALISÉ Nutrient Organic Face Oil with powerful antioxidants can help prevent skin from becoming dry and tighten your complexion. This will allow you to restore your skin's healthy, firm appearance.
Signs Your Skin Is Losing Elasticity
Before we can discuss solutions to this problem, let's first look at the signs of sagging. What is saggy skin? How can you tell if it's there? When the skin loses the elasticity and collagen it was born with, we call it sagging. Elasticity is the skin's ability for to snap back after being pulled, stretched or pulled. This happens every time you frown, smile, or laugh.
Most commonly, you will notice sagging in the form of a loose appearance or drooping around areas that were once firm. Your skin may appear dry and wrinkled. You can see a loss in elasticity anywhere. However, it's most noticeable around the eyes, neck, decollete, and jowls.
The skin is constantly exposed to environmental stress, which can lead to loss of elasticity. Our skin is the largest organ in our body and acts as a shield against the harmful effects of environmental stressors. It is essential for our overall health, but it can also mean that our skin is often damaged by the environmental effects. Skin elasticity can be affected by lifestyle and environmental factors such as smoking, fast weight loss, and sun exposure.
While lifestyle changes may be helpful, there are some causes that can cause elasticity loss that cannot be avoided. Continue reading to find out how antioxidants and skin care can restore your elasticity.
Skin Firming Face Oil & Facial Massage
There are many options available to restore elasticity and maintain a firm complexion. You can keep your skin tight and healthy by using antioxidant-rich skin products that restore elasticity. Antioxidants have been shown to reduce the effects of environmental stressors and protect the skin from further damage.
La Coéss REVITALISÉ Nutrient Organic Face Oil is our favorite antioxidant-rich product for skin care. This face oil contains Organic Grape Seed Oil and superfruit Organic Pomegranate oils. It is designed to reduce the signs of aging and plump, firm, and rejuvenate skin. This face oil can be used day and night, or you can add it to your favorite moisturizer to give your skin an extra firming boost.
You can expect this from the face oil:
Reduced visible signs of aging such as wrinkles and fine lines
Skin feels softer and smoother
The skin appears plump and hydrated
Your skin appears firmer and more vibrant
Face Massages, such as facial gum sha with face oil, increase cell growth and blood flow. This prevents wrinkles and fine lines. It should be done for between 5-6 minutes each day. This is a tradition that beauty professionals swear by.
RELATED: The Inside-Out Glowing Skin Essential You Need To Know - Gua Sha Beauty Tool For Skin
Antioxidants In Your Diet
The best way to fix loose or sagging skin is to include antioxidants in your diet. Red and yellow peppers and tomatoes, as well as spinach, avocados and artichokes are all good options to improve the skin's appearance. You can satisfy your sweet tooth by eating antioxidant-rich blueberries and raspberries as well as dark chocolate. Are you using antioxidants in your skin-care routine? Please leave a comment about your experience.
Read More Natural Beauty Blogs
Our Signature Product
REVITALISÉ Nutrient Organic Face Oil
La Coéss® REVITALISÉ is a 100% pure and nourishing nutrients replenishing organic face oil. Sophisticated blends of 15 organic nutrient-dense, powerful botanicals into a silky-smooth texture delivers the exceptional power to revitalize, restore, protect and balance skin.