The Inside-Out Glowing Skin Essential You Need To Know - Gua Sha Beauty Tool For Skin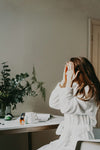 There has an ancient Chinese medicine that is used to massage the body to help heal the body itself. It is now essential and is highly patronized as a treatment for skin care concerns. It is also referred to as scraping, coining, or spooning; gua sha (called "gwasha") facials are more straightforward than the conventional means that were used as a treatment for diseases such as cold and fever.
That being said, gua sha facial has gained relevance to the extent that so many Gua Sha skin care studios have been established, even on social media platforms such as Instagram and Youtube have seen more of its tutorial videos.
What Is GUA SHA? 
Gua sha is an old traditional method derived from jade, horn or bone, and is used in Chinese medicine to transmit energy movement on the skin. In doing this, stagnant energy is being pressured and broken down, which stimulates the lymphatic system, helps reduce inflammation, and increases blood flow and the body's healing process. Although it looks simple, the technique is very rigorous, and for more than five centuries, it has been used to treat inflammation, chronic coughs, fever, sinusitis and migraines, tension, and muscle pain.
What Are The Benefits Of Gua Sha?
We've already mentioned some of the benefits of gua sha above, such as reducing inflammation on the face, decreases puffiness under the eyes, and it relieves muscle tension.
According to research, 2014 study discovered that gua sha has aid movement and pain reduction among people who are using the computer frequently. In another research, a 2017 study also discovered that weightlifters that underwent gua sha treatment used less energy in lifting weight. This could mean that gua sha treatment is beneficial for muscle.
Effects of regular Gua Sha massage on the body:
Reduced cellulite in the legs
Reduced cortisol (help destress)
Increased immunity
Increased hydration
Increased blood flow 
Soothed muscles
Increased lymphatic flow (toxin release)
I have learned the gua sha method and have continuously used it for over a year now. The constant practice of facial gua sha has prevented my face from getting swollen. 
How To Perform Gua Sha Massage for Body?
To start this treatment, you should apply a generous amount of non comedogenic nutrient oils onto your neck and chest – we recommend our REVITALISÉ Nutrient Organic Face Oil that can assist in making this massage smooth and soothing while it is on-going. Rub to the center of your chest with the Tear-Drop side of White Jade Gua sha, rub the gemstone slowly, for at least eight times, relax your strokes outward. While doing this, a reddish bruising might occur, but it is all part of the process, so relax your mind. Within a blink of an eye, the reddish bruises fade quickly, and you can always adjust the massage intensity for your comfort.   
From your hairline, gently stroke down to your neck nape, then, to the shoulders to enjoy that relaxed feeling majorly for people like us who are always on the computers. During these processes, you will discover that the massaging traces your body and muscles' natural line, which makes it ideal after a stressful day or prolonged exercise.
As usual, apply oil and press the back of your upper arms down. It is required to avoid thin skin that can pile up in this part of the body. The oil produces hydration and helps circulation, which allows the skin to look bright from the massaging activities. You can also stroke the torso, press down from your bra-line to your hips, to your ribcage curves, and move your hands inward.
So how do I do my own Gua Sha Massage for Face?
Check the blog La Coéss wrote before. One thing to notice, you'll want to start this treatment with non comedogenic oils. Applying facial oil before massaging will help the stone to glide easier while moisturizing the skin too.
One Last Thing

It is essential to use the right tools for this massaging process, a gua sha made with jade is ideal to use. Aside from looking beautiful on your dresser, white jade is revered for its cooling properties. Avoiding anything made from bone and horn for obvious reasons, you should also steer clear of cheaper alternatives which could be made from acrylic or other artificial substances that can cause skin irritation. 
Read More Natural Beauty Blogs
Our Signature Product
REVITALISÉ Nutrient Organic Face Oil
La Coéss® REVITALISÉ is a 100% pure and nourishing nutrients replenishing organic face oil. Sophisticated blends of 15 organic nutrient-dense, powerful botanicals into a silky-smooth texture delivers the exceptional power to revitalize, restore, protect and balance skin.