No One Likes Wrinkles, But These 3 Body Parts Age Worse Than Your Face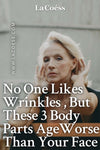 When you fight the signs of aging, you always target the face. But you may not know these parts of the body can show years of damage even more easily. Check out these three areas that are often overlooked and can age even worse than your face.
Read More Natural Beauty Blogs
Our Signature Product
REVITALISÉ Nutrient Organic Face Oil
La Coéss® REVITALISÉ is a 100% pure and nourishing nutrients replenishing organic face oil. Sophisticated blends of 15 organic nutrient-dense, powerful botanicals into a silky-smooth texture delivers the exceptional power to revitalize, restore, protect and balance skin.