8 Proven Tips For Your Natural Glowing Skin During This Holiday Season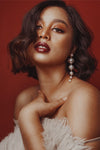 Social gatherings and travel plans seem may not likely happy this year; however, this does not mean that holidays are canceled. You should be happy and enjoy while you stay safe in any way you can be just as we are ensuring safety. Nevertheless, the greatest time of the year may not be the greatest time for your skin to glow. Do not worry. We're here to give you our best skin care tips so your skin can stay happy during the holiday season. 
Winter Skin Glowing Tip #1
Maintain routine as normal as possible
Whenever you are about to do your skincare, make sure you maintain a consistent routine and also ensure that you do it accordingly. The truth is that most of us do not need a 10-step skincare routine, and we are more likely to do things if we kept it simple. This is why La Coéss Revitalisé Organic Face Oil was developed, it is a multi-correctional solution formulated with potent botanical ingredients made to help achieve a brighter, more radiant complexion.
Winter Skin Glowing Tip #2
Double cleanse
Double cleanse of the skin is essential to prevent skin pores from being clogged with makeup, bacteria, dead skin cells, or anything else that might come in contact with your skin. Especially when you are traveling by long car ride, flying, or you are cooking with your makeup on.
Winter Skin Glowing Tip #3
Exfoliate
When it comes to skincare, exfoliation is the process of sloughing off the dead skin cells from the surface of the skin. After cleaning your face, the next thing to do is to remove dead cells/ skin layer. To do this, there are two ways: either you use a physical exfoliate like face brushes or use AHA/BHA, which are chemical exfoliate. Whatever method you use, make sure you use sunscreen the next day.  
Winter Skin Glowing Tip #4
Keep your skin hydrated
If you are prone to dry skin during the winter months, use a serum or face oil into your routine is a must! When choosing products, make sure you choose a skincare formula made of natural and nourishing organic ingredients. Our REVITALISÉ Nutrient Organic Face Oil is an ideal one. 
Winter Skin Glowing Tip #5
Hydrating from within
Hydrating foods like vegetables and blended fresh fruit will keep you and your skin from drying out. Also, increase your water intake with at least 8 glasses of water in a day during the winter season.
Winter Skin Glowing Tip #6
Prime before makeup
You need to apply a nourishing primer before using makeup on your face. Skin gets dried during winter month, and makeup foundation often accentuates the dry patches, instead of covering them. However, if you don't want to buy a separate product, just add one drop of face oil to your foundation to instantly adding extra hydration.
Winter Skin Glowing Tip #7
Wear SPF 
You need to wear SPF and reapply it! Even when it's winter-time. Sunlight rays, also known as ultraviolet rays (UV rays) are unavoidable, and they cause skin aging in the future and worsen dark spots or scars in the present if the skin is not protected.
Winter Skin Glowing Tip #8
Always have a warm bath not hot 
After a long day, it is always refreshing to shower. Sometimes, there is still a temptation to switch on the heater and have a hot shower. Hot water strips your skin's natural oil which results in skin dryness. Try to keep showers short and use cool or lukewarm water when washing your face.
There you have it! Make these eight steps a habit during this winter, and you will look and feel your best with glowing, radiance skin. What are you waiting for dear friends, get more colorful and be living on this holiday!
Read More Natural Beauty Blogs
Our Signature Product
REVITALISÉ Nutrient Organic Face Oil
La Coéss® REVITALISÉ is a 100% pure and nourishing nutrients replenishing organic face oil. Sophisticated blends of 15 organic nutrient-dense, powerful botanicals into a silky-smooth texture delivers the exceptional power to revitalize, restore, protect and balance skin.