How To Better Cocktail Your Skin Care To Maximize Results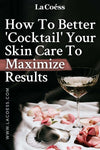 When it comes to skin care, certain products go together and are most compatible and effective as a duo. Sure, they're good on their own, but they work even better as a pair. Pairing products is the next best thing you can do to give your skin the complement of ingredients it needs. Curious to know which of your skincare staples work better as a team? Just keep on scrolling.
Read More Natural Beauty Blogs
Our Signature Product
REVITALISÉ Nutrient Organic Face Oil
La Coéss® REVITALISÉ is a 100% pure and nourishing nutrients replenishing organic face oil. Sophisticated blends of 15 organic nutrient-dense, powerful botanicals into a silky-smooth texture delivers the exceptional power to revitalize, restore, protect and balance skin.