Suffering From Dry Skin? You Might Be Skipping This One Crucial Step of Your Skincare Routine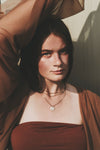 How to Effectively Use Your Favorite Face Oil to Combat Dry Skin
Dry skin can sneak up on you. You could be looking perfect one minute and then your face will feel flaky and tight the next day. While there are many causes of dry skin, the common impulse to immediately apply your most heavy moisturizer can be overwhelming. That's fair enough. We want to argue that face oils should be included in your product line for dry skin.
Face oils are now the most popular way to combat dry skin. Face oils can be used as a compliment or a supplement to the natural sebum that our sebaceous glands naturally produce. Face oils can supercharge dry skin. Face oils can be applied after moisturizing products or mixed with them. They create an occlusive layer that locks in moisture and reduces water loss. Oils can also keep you looking radiant, and add a luxurious atmosphere to your skin care routine.
Although many are skeptical about using face oils, they can treat a variety of issues and bring back your natural glow. They provide nutrition and hydration boosts with their rich, emollient texture. Facial oils are rich in essential oils and plant extracts that provide lipids to the skin which strengthen the skin's barrier. They usually contain one or more oils from nuts, fruits, and seeds. The type of facial oil you choose may offer additional benefits beyond nourishing and strengthening your skin barrier.
Face oils are essential steps in your skincare regimen. For a glowing, healthy complexion, it is important to increase the skin's moisture and use essential oils. Dry skin sufferers need not worry. Take a few drops of your favorite oil on your face and you will find the hardworking counterpart.
What Could Be Causing Dry Skin?
First, you need to understand what is causing your discomfort. This will help you find the right products for your skin.
#1 Environment
Living in cold, low-humidity climates or constantly flying can strip your skin of its natural moisture. You can feel the dryness of the air in your lungs when you are exposed to cold winds. Heaters and air conditioners also reduce humidity—you can almost feel the discomfort of the dry air when you breathe.
#2 Bathing Too Much 
Baths can be a good hygienic routine, but it is not a bad idea to practice everything in moderation. Long baths and hot showers can cause the skin to dry out. Taking a bath more often than once per day can also strip your skin of its natural oils, so moisturize as soon as possible.
#3 Dehydration
Dehydrated skin can make it feel dry and lackluster. I don't believe it is worth spending money on expensive skincare if your body doesn't get enough water and you aren't feeding it nutritious foods.
#4 Aging
Our skin's ability to retain moisture is one of the many things that time can steal. As we age, our skin cells lose their ability to retain water.
The Best Ingredients to Look for When Treating Dry Skin
You'll love (product) labels if you know what to look for. We've compiled a list of our top picks for moisturizing ingredients in a face oil.
Natural (Cold-pressed Organic Oils)
Natural oils such as grapeseed oil and camellia oil have natural fatty acids. These oils are remarkable because they only contain one or two ingredients. Vitamin E is the second ingredient, which is hydrating and also serves as a natural preservative. Evening primrose oil and chia seed oils, as well avocado oil, are particularly useful because they contain more oleic acids, which makes oils thicker, richer, and more nutritious. Oleic acid traps and retains moisture.
It is common for people with oily skin to cringe. However, it is crucial to maintain a healthy balance of all skin types. La Coéss REVITALISÉ Organic Face Oil is great for all skin types. La Coéss REVITALISÉ Face Oil is formulated with grapeseed oil, chia seed oil, and rosehip oil to help oily skin. This facial oil helps maintain healthy lipid barriers and nourishment. La Coéss REVITALISÉ Face Oil is also for you if your skin type is normal/dry. It's rich in essential fatty acids to moisturize, smoothen, and soothe your skin.
RELATED: How To Use Facial Oil: The Best Guide For Glowing Skin
The Golden Rule: Less Is Always More
Use a face oil when you experience dryness or when you are in need of additional moisture, due to internal or external factors. To add more properties to your serum or facial moisturizer, you can always add a few drops of face oil. For better skin penetration, La Coéss face oils can be used before any serum or moisturizer. You can apply face oils in the morning and evening. Or, you can use them as spot treatments to address skin problems like dryness or dark spots.
The rule of thumb is less is more. To achieve a beautiful, glowing complexion, you should apply a small (just enough) amount of either serum or oil to your skin.
RELATED: How to Get Rid of Dry Skin Naturally: 6 Amazing Tips to Relieve Your Dry Skin
Read More Natural Beauty Blogs
Our Signature Product
REVITALISÉ Nutrient Organic Face Oil
La Coéss® REVITALISÉ is a 100% pure and nourishing nutrients replenishing organic face oil. Sophisticated blends of 15 organic nutrient-dense, powerful botanicals into a silky-smooth texture delivers the exceptional power to revitalize, restore, protect and balance skin.