Why Is The Prickly Pear Seed Oil So Special?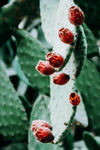 Prickly pear seed oil is obtained from the prickly pear cactus. This seed oil has truly proved to be a game-changer in the world of skincare. It has got the qualities of both a moisturizer as well as a soothing oil. Due to its healing capabilities, it has been used as a treatment for burn wounds. The most important feature that makes it one of the most wanted skincare products is the vitamin E content. Vitamin E is a very powerful antioxidant that will help your skin cells to grow and glow. 
What Is Prickly Pear?

Opuntia ficus indica is the fancy Latin name of prickly pear, it belongs to the cactus family of plants. Prickly pear is the fruit of the cactus. Native to Mexico, this cactus plant also grows in the Northern parts of Africa, especially in Morocco. Prickly pear is often referred to as the miracle plant, because of its ability to survive in the desert and produce delicious nutrients dense fruits. Before being a star ingredient for use in skin care, prickly pear has been a part of many dishes including cocktails and juices. 
Where & How Is Prickly Pear Seed Oil Sourced?

Prickly pear is found in parts of the world like the USA, South America, Mexico, and in some parts of Africa and even Australia. But the finest prickly pear seed oil is sourced from Morocco. And as we believe in providing the best skin care products, we get both our pear seed and argan oil sourced from the organic farm in Morocco. The finest oil is cold-pressed from the handpicked seeds. The process is extremely labor-intensive, to produce the best quality of oil.
How Has A Prickly Pear Been Used Historically?

Prickly pear has been used in various forms and for various purposes. The earliest use of prickly pear was for healing burns and wounds, later the Chinese used it on the infected skin. The Native Americans also used it to treat respiratory illnesses. The Mexicans found it useful in treating conditions like elevated cholesterol levels. Other than medicinal uses, it has been a part of many delicious recipes as well. To your surprise, prickly pear has also been used to paint churches. And now in recent years, prickly pear is getting appreciated for its extraordinary contributions in the skincare world.
Why Is Prickly Pear Seed Oil So Costly?
The extraordinary health benefits of prickly pear seed oil are not the only reason making it expensive. On average there are 150-300 seeds in the prickly pear fruit. But these tiny seeds only contain around 5% oil, which is why loads of prickly pear fruits are required to produce oil. Apart from the cost, scientists are now considering ways to use the plant as a sustainable energy source (BBC: The remarkable power of the prickly pear).
How Does Prickly Pear Benefit Skin?

When it comes to beauty benefits, prickly pear seed oil has got so much to offer. Research shows it is an amazing source of omega-6 and omega-9. Being rich in vitamin E, prickly pear seed oil also acts as an immunity booster and protects the skin cells from harsh climate and pollution. The high concentration of amino acids promotes skin cell growth and enhances collagen production. Polyphenols are the game changers for prickly pear seed oil. These have got loads of benefits including anti-inflammatory, anti-cancerous, and anti-oxidative properties. These are all the properties that need to be a part of any top-notch skincare product. Vitamin K helps lighten dark circles and will help achieve a glowing skin tone. You can find more information about the components of prickly pear seed oil in this article. 
How To Choose & Use Prickly Pear Seed Oil?

Choosing the best product for your skin is what everyone wants. There are a few things to be kept in mind while selecting a skincare product. When it comes to beauty oils, it is best to choose unrefined and organic ones. These oils are less refined and in the purest form as compared to others. 
Prickly pear seed oil is easy to use solely or mixed with other oils. You just have to massage a few drops of oil on your skin. When massaging your face, the strokes should always be in the upward direction for a skin lifting effect. You can also use Gua Sha tools to massage the skin. This will have a tightening effect on your skin and will also stimulate the skin cells. 
Read More Natural Beauty Blogs
Our Signature Product
REVITALISÉ Nutrient Organic Face Oil
La Coéss® REVITALISÉ is a 100% pure and nourishing nutrients replenishing organic face oil. Sophisticated blends of 15 organic nutrient-dense, powerful botanicals into a silky-smooth texture delivers the exceptional power to revitalize, restore, protect and balance skin.