Niacinamide Vs. Retinol What You Need To Know [Infographic]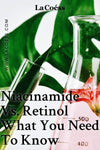 Niacinamide and retinol are both popular skin care ingredients at the moment. On their own, each ingredient can help improve skin blemishes and acne, even out skin tone, and diminish the signs of aging. If you are thinking to adding these two ingredients in your skincare routine, you've come to the right place, we will answer you how to use niacinamide and retinol to benefit your skin in infographic.
Read More Natural Beauty Blogs
Our Signature Product
REVITALISÉ Nutrient Organic Face Oil
La Coéss® REVITALISÉ is a 100% pure and nourishing nutrients replenishing organic face oil. Sophisticated blends of 15 organic nutrient-dense, powerful botanicals into a silky-smooth texture delivers the exceptional power to revitalize, restore, protect and balance skin.