Avocado Oil - The Underrated Game-Changer For Your Glowing Skin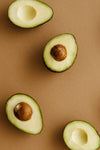 Avocados are loved for their soothing flavor, smooth texture, and a whole lot of nutrients they are enriched with. They not only make up delicious recipes to be a part of your dinner tables but also have numerous health benefits that most of you didn't know. The most underrated but highly nutritious form of this fruit is avocado oil — one of the best solution to most of your skincare problems.
Why Should You Use Avocado Oil?
Avocado oil has always been looked at as cooking oil for preparing your favorite meals. The reason being, it is extremely rich in vitamins, minerals, and essential fats. Along with all of these nutrients, avocados are a great source of antioxidants as well, keeping your immune system stronger than ever.
But have you ever thought of this "cooking oil," being a part of your skincare routine? Most of you must be thinking how even is this possible? To your surprise, avocado oil can also be used as a moisturizer and even as a sunblock (International journal of molecular sciences).  You can either use it directly or in combination with your skincare products.
Benefits of Avocado Oil for Skin
Natural Moisturizer
Avocado oil can be used as an organic moisturizer, irrespective of your skin type. The oil feels light on the skin and quickly gets absorbed, giving your skin a natural shine and glow. This multi-nutrients oil will soften your skin keeping it hydrated all day long.
Cleansing Nature
Avocado oil has been endowed with a natural cleansing action. It has got all the properties that any of your expensive chemical cleanser or makeup remover would have. No need to buy any overpriced cleansers, just take some drops of avocado oil and massage your skin well to remove all the dust and dirt clogging your pores. It naturally cleanses your skin eliminating all the tan, dirt, and dead skin cells, giving it a fresh glow. 
Gentle on your skin
Using artificial cleansers very close to the eyes is usually forbidden, due to their harsh chemical components. Contrary to this, avocado oil is so gentle on your skin that it can be easily used around the eyes. It not only cleanses your skin but also reduces darkness under your eyes. It is scientifically backed up by numerous studies that avocados are rich in vitamin K that helps reduce dark circles (see research here). 
Effective for Eczema and Psoriasis
Eczema and psoriasis are characterized by dry patches all over the body. Avocado oil, being a natural moisturizer can soothe the skin affected by such conditions. It helps reduce excessive dryness and promotes skin cell growth with the help of vitamins and minerals. Despite the proven benefits of avocado oil for such skin conditions, still it is recommended to have a patch test first. For that, you just need to apply the oil on any small area of your skin and wait for some time. This will rule out all doubts regarding any side effects or reactions.
Reduces signs of aging
With the growing age, wrinkles and all signs of aging become more evident. Skin starts crumbling and begins to lose its elasticity. No one, especially women would never want their face to show wrinkles and fine lines. Avocado oil can help you in this matter as well. It is full of essential fatty acids that make your skin look younger and reduce all signs of aging.
Promotes nail and hair growth
As avocado oil has got several skin benefits, it also benefits other protein structures of the body like nails and hair. It helps to repair weak or broken nails. It also helps maintain your scalp's hydration and is very effective against dandruff and other dry scalp problems. Regularly oiling your hair will give them a smooth and shiny texture.
How to Use It
Avocado oil will surely benefit your skin, regardless of being used solely or mixed in your skincare products. Another way to use avocado can be, mixing the mashed fruit in some honey and applying it to your skin. This mask will help your skin breathe and will brighten it up. The best way to incorporate avocado oil in your daily skincare routine is to add a few drops of it into your lotion or moisturizer. Doing the same with your body wash or shower gel would be another great idea. Using it daily or once a month is completely up to your love for avocados.
No matter what you use it for, choose the best avocado oil
The effectiveness of avocado oil depends on its quality. A good quality avocado oil will be your best partner not in just the kitchen but also for your skincare. We carefully select organic nutrient-dense botanicals and audit our sources with organic certifications to ensure that they meet our highest standards of quality and effectiveness. The nourishing avocado oil used in our La Coéss Revitalisé Nutrient Organic Face Oil is grown and harvested in Muranga of Kenya, which holds one of the top quality around the world.
Read More Natural Beauty Blogs
Our Signature Product
REVITALISÉ Nutrient Organic Face Oil
La Coéss® REVITALISÉ is a 100% pure and nourishing nutrients replenishing organic face oil. Sophisticated blends of 15 organic nutrient-dense, powerful botanicals into a silky-smooth texture delivers the exceptional power to revitalize, restore, protect and balance skin.