Ingredients To Avoid In Skin Care [Infographic]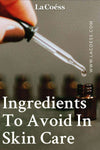 Have you ever read that list of ingredients on the back of your skin care products? We come into contact with these skin care products daily but remain unaware of their potential to trigger symptoms such as itchy, dry skin or dermatitis. To keep our skin in its best condition, we've researched the top ingredients to avoid in skin care and beauty products. Read on for tips in infographic on how you can nurture a strong and healthy complexion.
Read More Natural Beauty Blogs
Our Signature Product
REVITALISÉ Nutrient Organic Face Oil
La Coéss® REVITALISÉ is a 100% pure and nourishing nutrients replenishing organic face oil. Sophisticated blends of 15 organic nutrient-dense, powerful botanicals into a silky-smooth texture delivers the exceptional power to revitalize, restore, protect and balance skin.