How To Get Glowing Skin - 5 Expert Tips [Infographic]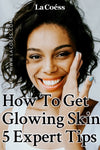 If there's one thing everyone wants, it's glowing skin. A naturally radiant complexion can help your skin look better without makeup and contribute to an overall healthier-looking complexion. Read on for our top glow-up tips in an infographic.
Read More Natural Beauty Blogs
Our Signature Product
REVITALISÉ Nutrient Organic Face Oil
La Coéss® REVITALISÉ is a 100% pure and nourishing nutrients replenishing organic face oil. Sophisticated blends of 15 organic nutrient-dense, powerful botanicals into a silky-smooth texture delivers the exceptional power to revitalize, restore, protect and balance skin.