The Ultimate Guide To the Perfect Skin Care Order To Follow - Maximizing Your Skin Care Results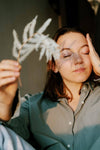 Following the correct skin care order is one of the key factors in achieving maximum skincare results. Our skin is selectively permeable for different molecules and compounds. The skincare products we generally use include only a few ingredients that can pass through our skin. To achieve maximum absorption of the product you need to follow the correct skincare order. If you don't take care of the skincare order then you are just wasting the product, time, and money.
How To Determine The Correct Order For Your Skincare Steps?
The easiest way to go is to follow the instruction provided in the product description. There is no such thing as a rulebook to follow for the correct skincare order. But the general order is to layer the products, starting from the thinnest and ending at the thickest product. As water-based products are the thinnest, so they are applied first. The objective is to achieve maximum absorption which will be easier when starting from the lighter products.
By keeping all the general principles in view, we've come up with the most effective skincare order for you. It will you in achieving 100% results. So, let's get started!
Step #1: Cleansers
Before applying any serum or oil it is important to remove all kinds of dirt and makeup residues from the skin. You need to cleanse your skin deeply with a comfort cleanser. Cleanser very gently removes the dirt and excess oil from your face making it ready for the next steps.
For better results, you can try double-cleansing - one of the Asian-inspired beauty trends you can try. It is a two-step process. In the first step, you wash your face with an oil-based cleanser. This will make your pores free from oil, dirt, and makeup. After that, you use a foaming cleanser to give a deeper cleanse.
Step #2: Toner
After cleansing the second step is toning. Toning is a very important step in the skincare order because it provides you double benefits. Firstly, it will cross-check if any dirt or residue is left behind. Next, it will prep your skin for the application and absorption of other skincare products. Toner sets the base for other products.
Step #3: Face Serum / Treatment
The third step is applying a face serum or any treatment for specific skin concerns. These are highly-concentrated liquids containing several healthy and active ingredients. They help maintain the good health of your skin cells which will reflect on your face. Face serums have a very crucial role in the skincare routine for targeted treatments.
 Step #4: Face oil
Then come to the face oil, the fourth step in the skincare order. Women with oily skin might be confused about using face oils or not. But let us tell you that facial oils can potentially protect your skin in so many ways if applied properly. According to studies, face oil can also enhance the skin penetration of various nutrients and substances. And face oil might be one of the best things to add to your skin.
Keeping your skin hydrated is very important to protect it against breakouts or acne. This doesn't mean that you just put on any face oil on your skin. But the need is to know your skin and then make the right choice for yourself. You can start with lighter face oils that are preferably applied during day time.
Tips:
Daytime Routine: Light-weight and anti-oxidant-rich face oils are better to use in the daytime. La Coéss REVITALISÉ Nutrient Organic Face Oil can be a great choice in this regard. One thing to remember is to apply the serum first, then the face oil, and then moisturizer. This is the best skincare order for daytime applications.
Nighttime Routine: You can use the same face oil or can even go for a richer one at night. But the skincare order for the nighttime routine would include the facial oil to be applied at the end.
Step #5:  Moisturizer
Moisturizer is another important step in the skincare order. Different moisturizers will be used according to your skin type. Rich creamy moisturizers go best for people with dry skin to make it hydrated. And for oily skin, you can go for lightweight moisturizers. You must know your skin before getting yourself a moisturizer. We've often got questions regarding if you can use face oil alone, click the link to learn can you use a facial oil instead of a cream or lotion?
Step #6 (for day time only): Sunscreen
The most important but mostly neglected step in the skincare order is the sunscreen. You need to apply good sunscreen daily after your moisturizer. Your daytime skincare routine is incomplete without sunscreen. According to the latest research, using a broad-spectrum SPF of at least 15 is recommended. People with fairer skin can even go for higher-SPF sunscreen.
Skincare Booster: Face mask
Applying a face mask once or twice a week can be a bonus step in the skincare order. You just need to apply a cleanser and toner before the mask and you are good to go. The rest of the steps remain the same.
Skincare Booster: Exfoliation
Another step that you can gradually include in your daily skincare order is exfoliation. You can start once a week and then bring it up daily after building up the tolerance. Remember that over-exfoliating your skin can have the same consequences on your skin as not exfoliating completely.
Read More Natural Beauty Blogs
Our Signature Product
REVITALISÉ Nutrient Organic Face Oil
La Coéss® REVITALISÉ is a 100% pure and nourishing nutrients replenishing organic face oil. Sophisticated blends of 15 organic nutrient-dense, powerful botanicals into a silky-smooth texture delivers the exceptional power to revitalize, restore, protect and balance skin.