Is Your Skin Sensitive or Sensitized? Here's How to Deal [Infographic]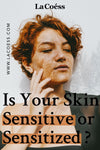 If you'd describe your skin as sensitive, you're not alone. Some studies estimate that 70% of women report having sensitive skin - such as skin irritation, redness, burning, itching. But is the problem your delicate, reactive skin, or the products you've been using on it? How to tell whether your skin is truly sensitive or sensitized? Here's the infographics about how to know and what you can do!
Read More Natural Beauty Blogs
Our Signature Product
REVITALISÉ Nutrient Organic Face Oil
La Coéss® REVITALISÉ is a 100% pure and nourishing nutrients replenishing organic face oil. Sophisticated blends of 15 organic nutrient-dense, powerful botanicals into a silky-smooth texture delivers the exceptional power to revitalize, restore, protect and balance skin.