The Ultimate Guide To Decoding Your Skincare Labels [Infographic]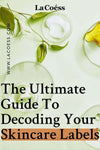 Need help decoding the labels on your skincare or beauty products? Looking at the label can give you more insight into how the formula came to be and if it is eco-friendly, organic, cruelty-free or vegan. We have break down the top logos, phrases and ingredients for you.
Read More Natural Beauty Blogs
Our Signature Product
REVITALISÉ Nutrient Organic Face Oil
La Coéss® REVITALISÉ is a 100% pure and nourishing nutrients replenishing organic face oil. Sophisticated blends of 15 organic nutrient-dense, powerful botanicals into a silky-smooth texture delivers the exceptional power to revitalize, restore, protect and balance skin.