Chemical vs. Mineral Sunscreen: Everything You Need To Know [Infographic]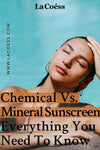 Sunscreen is essential to keep skin protected from the dangers of sun exposure. You need daily sun protection to keep your skin healthy and looking youthful. There are two categories of sunscreen: chemical and mineral (physical). Which type of sunscreen should you choose? We've come up with the side-by-side comparison in an infographic with them for you.
Read More Natural Beauty Blogs
Our Signature Product
REVITALISÉ Nutrient Organic Face Oil
La Coéss® REVITALISÉ is a 100% pure and nourishing nutrients replenishing organic face oil. Sophisticated blends of 15 organic nutrient-dense, powerful botanicals into a silky-smooth texture delivers the exceptional power to revitalize, restore, protect and balance skin.