Simple Holistic Skin Care Tips to Naturally Healthy Skin [Infographic]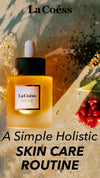 A holistic lifestyle is a term that is gradually gaining popularity. The whole idea behind this term is the treatment of something as a whole and not just the parts of it. Here are some of the best tips, from a holistic skincare approach, to promote vibrant skin and keep your overall skin health intact.
Read More Natural Beauty Blogs
Our Signature Product
REVITALISÉ Nutrient Organic Face Oil
La Coéss® REVITALISÉ is a 100% pure and nourishing nutrients replenishing organic face oil. Sophisticated blends of 15 organic nutrient-dense, powerful botanicals into a silky-smooth texture delivers the exceptional power to revitalize, restore, protect and balance skin.