Looking For These Ingredients if You Want To Fight Aging [Infographic]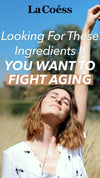 We've come up with the most effective anti-aging ingredients that are naturally derived. These 5 effective natural anti-aging ingredients will help you to have younger looking, smoother, more glowing skin.
Read More Natural Beauty Blogs
Our Signature Product
REVITALISÉ Nutrient Organic Face Oil
La Coéss® REVITALISÉ is a 100% pure and nourishing nutrients replenishing organic face oil. Sophisticated blends of 15 organic nutrient-dense, powerful botanicals into a silky-smooth texture delivers the exceptional power to revitalize, restore, protect and balance skin.