3 New Ways ✨To Use REVITALISÉ Nutrient Organic Face Oil [Infographic]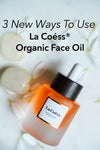 Just Add REVITALISÉ Organic Face Oil - La Coéss Face Oil has been perfected using a sophisticated formula of 15 nutrient-dense organic botanicals through the effect of complementarity. Each organic ingredient plays a role in this phyto-nutrients complex to ensure you get the results you need and to keep your skin at it's best. Utilizing modern skin science and active botanicals, we create products that highly potent and lightweight, deliver deep into the skin for a smooth and radiant skin.
Read More Natural Beauty Blogs
Our Signature Product
REVITALISÉ Nutrient Organic Face Oil
La Coéss® REVITALISÉ is a 100% pure and nourishing nutrients replenishing organic face oil. Sophisticated blends of 15 organic nutrient-dense, powerful botanicals into a silky-smooth texture delivers the exceptional power to revitalize, restore, protect and balance skin.