DISCOVER THE POWER OF Jade Facial Gua Sha with La Coéss [Infographic]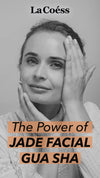 In a recent quest to De-stress through self-care, we would like to sharing you the benefit about Facial Gua Sha. Facial Gua Sha stimulates the dermis to support collagen and elastin production, manipulates areas of tension to relax facial muscles, exponentially increases blood and aids lymphatic flow, releases congestion and toxicity, soothes sore eyes and skin and unlocks aching jaws and brow: resulting in a brighter, healthier, more radiant complexion.
Read More Natural Beauty Blogs
Our Signature Product
REVITALISÉ Nutrient Organic Face Oil
La Coéss® REVITALISÉ is a 100% pure and nourishing nutrients replenishing organic face oil. Sophisticated blends of 15 organic nutrient-dense, powerful botanicals into a silky-smooth texture delivers the exceptional power to revitalize, restore, protect and balance skin.