The Science Of A Naturally Glowing Skin - Microcirculation [Infographic]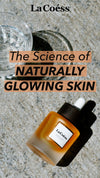 Skin microcirculation plays a significant role in human body homeostasis, and is located in the dermis and hypodermis layers. It plays a significant role in skin homeostasis (transportation of nutrients, waste, hormones) and in inflammatory response. As a result, one of the key factors in healthy, glowing skin is great microcirculation. La Coéss REVITALISÉ Organic Face Oil was formulated with three key ingredients: Organic Jasmine Oil; Organic Prickly Pear Seed Oil and Organic Rosemary Oil, which help boosting circulation to aide the skin's own microcirculation.
Read More Natural Beauty Blogs
Our Signature Product
REVITALISÉ Nutrient Organic Face Oil
La Coéss® REVITALISÉ is a 100% pure and nourishing nutrients replenishing organic face oil. Sophisticated blends of 15 organic nutrient-dense, powerful botanicals into a silky-smooth texture delivers the exceptional power to revitalize, restore, protect and balance skin.