Carrot Oil Might Be the Best Natural Retinol You Should Try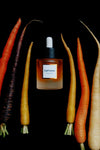 Carrots have always been up there when it comes to our love for vegetables, but they are also earning the status of one of our favorite natural beauty ingredients. Carrots are packed with essential nutrients for skin health, such as beta-carotene, a precursor of vitamin A (retinol), which also gives carrot the bright orange color.
Carrot Oil: A Brief Summary
Carrot oil, also known as Queen Anne's lace, is derived from the dried seeds and roots of the wild carrot plant (Daucus carota). Carrot oil has a smooth, earthy aroma and is yellowish-brown in color. It has been used in skin care throughout history and can be combined with carrier oils (such as jojoba, argan, almond oils). Its origin has been traced back to ancient Greece, Egypt, India, and France. 
Carrot Oil Vs. Carrot Essential Oil
Carrot essential oil and carrot are two different types of skin care oil, and they serve different purposes. For example, carrot oil is good for skin care and skin massage and can be mixed with other essential oil and plant oils. Carrot essential oil can be diffused or used in direct inhalation, and it must be diluted with a carrier oil before used on the skin.
Carrot essential oil – this is often derived from the steam distillation of carrot seeds, it is packed with nutrients and in a very concentrated form. If you have sensitive skin, pay attention to the amount you used, because it might cause skin sensitivities.
Carrot oil – this vegetable oil is often made by cold pressing or supercritical carbon dioxide (CO2) extracting the roots and seed. It can be used directly on the skin and is usually sensitive skin-friendly.
Skin Benefits of Carrot Oil
Rich in Antioxidants: what makes carrot oil a powerful antioxidant is the beta-carotene component in it. They are vital in preventing the skin from free-radical damages, especially when it comes to a pollutant and the sun rays.
Increases Cell Turnover: Research shows that beta-carotene, a precursor to vitamin A, can help with cell regeneration. When it's applied topically, it speeds up the skin's cell turnover rate, bringing the younger, healthier skin cells to the surface. It can also repair dead cells on the skin surface, and this makes the skin shine brighter. Carrot oil can be a planted-based retinol alternative, read this article if you want to find more information.
Reduce Rosacea: Carrot oil also contains linoleic acid, which has anti-inflammatory properties. This means that it can treat inflammation on the skin.
How to Apply Carrot Oil for Face
Here are some of the best tips for applying the carrot oil to your face:
- Face oil blends with Carrot oil
Apply the carrot oil all over the face as a moisturizer but test out how it works for your skin over a few weeks. Keep your skincare routine the same when you do this, without adding any other products to the mix. Then, you know that any positive or negative results will be from the carrot oil. Revitalisé organic face oil is carefully tested and well-picked each of its ingredients, which chooses to be formulated with certified organic carrot oil instead of carrot essential oil, to be especially beneficial for those sensitive skin.
- Oil Serum
Do you like to do a cocktail or fancy DIY with your face oil? Using your own oil serum might have a lot of fun, especially when it is combined with carrot essential oil along with a carrier oil that works best for your skin. But it is advisable to run a test on your oil serum first, before using it on your face. Also, do your research on how to choose non comedogenic oils suitable for your skin.
- Give yourself a little Facial Massage
Apply a few drops of Face Oil or Oil Serum that contain carrot oil to your skin. Give yourself a facial and relax knowing that you're massaging this oil into your skin. If you want to level up the massage results, consider using a Gua Sha Tool that made of jade for a SPA like facial experience.
Tips for Choosing Carrot Oil for Face
Look for high-quality carrot oil if possible, as this can guarantee top purity and quality of the nutrients.
Look for organic brands and the logos of organic certifying bodies, such as the Soil Association, Ecocert, and USDA Organic. This can guarantee that there are no nasty chemicals that are damaging to our health and that the ingredients were grown sustainably and ethically. Finding organic products to buy from can be made easier by searching the directories of these organic certifying bodies.
Store cold-pressed carrot oils in a cool, dark place to maintain the maximum shelf life.