Best Anti-Acne Diet Based on 70 Studies - What to Eat For Clear Skin [Infographic]!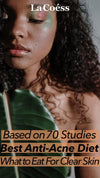 Studies found that diet may play a role in the development of acne. Evidence suggests that a healthy diet can help reduce or prevent acne breakouts. Want to know what foods can help you combat acne? We've come up with the best anti-acne foods explained in infographics for you to have a healthier acne-free skin.
Read More Natural Beauty Blogs
Our Signature Product
REVITALISÉ Nutrient Organic Face Oil
La Coéss® REVITALISÉ is a 100% pure and nourishing nutrients replenishing organic face oil. Sophisticated blends of 15 organic nutrient-dense, powerful botanicals into a silky-smooth texture delivers the exceptional power to revitalize, restore, protect and balance skin.