7 Tips To Age Gracefully - How To Age Well [Infographic]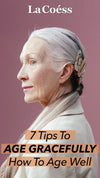 As you get older, your skin goes through various changes, including losing radiance and developing your first fine lines and wrinkles. Thankfully, your years of growing wiser can pay off—you have the reasoning skills to determine that your aging skin needs an upgraded routine. Here are the best ways to give your brain and body a leg up as you age.
Read More Natural Beauty Blogs
Our Signature Product
REVITALISÉ Nutrient Organic Face Oil
La Coéss® REVITALISÉ is a 100% pure and nourishing nutrients replenishing organic face oil. Sophisticated blends of 15 organic nutrient-dense, powerful botanicals into a silky-smooth texture delivers the exceptional power to revitalize, restore, protect and balance skin.