How To Layer Retinol Like A Pro In Just 3 Easy Steps [Infographic]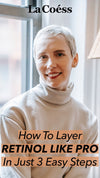 When it comes to perfecting a simple and effective nighttime skin care routine, retinol is one of the top ingredients that comes to mind. It doesn't have to be a complicated secret. Follow these simple steps explained in infographics to easily add retinol to your nighttime skin care routine.
Read More Natural Beauty Blogs
Our Signature Product
REVITALISÉ Nutrient Organic Face Oil
La Coéss® REVITALISÉ is a 100% pure and nourishing nutrients replenishing organic face oil. Sophisticated blends of 15 organic nutrient-dense, powerful botanicals into a silky-smooth texture delivers the exceptional power to revitalize, restore, protect and balance skin.