Are You Applying The Right Amount Of Each Skincare Product?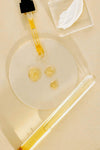 How Much Of A Skincare Product Should You Really Use?
Although there is no universal skincare regimen, there are guidelines regarding the amount of products you should use. A drop of product can make a big difference in how effective your routine is. You may not reap the full benefits of the product; too much can cause irritation and over-application. Finding the right balance is key. What is the right amount of what is too much? Continue reading to learn how to apply your skin care products correctly using the right amount.
How Much Product To Use (And How To Apply It)
Each product in your skincare regimen has its own preferred method of use, regardless of how much or how little. It is a good rule of thumb to read all instructions before you use any product. Over-application of products is a common mistake in skin care. Your skin is like a sponge. It can only absorb as much product as it can handle. If you apply too much, the products will just build up on your skin. The same goes for using too much product. This will not give your skin the full benefits. Professional skin care products are concentrated. To reap the full benefits of professional skin care products, you will need to use less. This guide will help you determine the right application quantities.
Cleanser
Coin-sized amount
There are two types of cleansers: those that remove makeup and those that don't. Start with a small amount and work your way up until you have completely removed all makeup from your skin.
Double cleansing is recommended, especially if multiple layers of skin care products or makeup are on your face. You will usually need a small amount (usually a nickel-sized amount) to give your skin a thorough cleanse. Use a coin-sized amount to massage your skin.
Face Spray / Toner
3 Sprizes
Toners complete the cleansing and prepare your skin for the rest. These quick-absorbing mists can remove any lingering imperfections, balance your skin and provide a foundation layer of hydration. This allows your skin to absorb any subsequent skin care products more easily. Toner should be applied morning and evening, right after cleansing. Toner can be applied directly to the skin with three sprays. You may also use a cotton pad to gently wipe the toner across the face and neck.
Oils, Serum, Or Concentrate
A few (2-3) drops or pea-sized amount
A little goes a long when it comes to oils, serums, and concentrates. These powerful formulas are rich in active ingredients, which boost skin health and address specific skin conditions. You can use them separately or combine them to get more benefits.
They are extremely concentrated so you only need to use a very small amount of oil, concentrate, or serum to reap the full benefits. We recommend three drops of oil or serum on clean skin. The La Coéss REVITALISÉ Nutrient Organic Face Oil is a powerful, multi-tasking oil that can be used on your skin. For a youthful glow, apply a thin layer to your entire face. Pro tip: Make sure your skin is slightly damp before applying face oil. This will allow the active ingredients to absorb better.
Moisturizer
Dime-sized to the face
Cherry-sized amount to the body
Too much moisturizer can cause skin to absorb less of its benefits and lead to product accumulation. This can lead to clogged pores and dull skin. A dollop of moisturizer, or one to two milligrams per square centimeter of your skin, should suffice to moisturize your neck, face, and décolletage adequately. It doesn't matter how much moisturizer is applied, what matters most is how it's applied. Start at your chest and work your way up to your hairline. This will stimulate circulation and give your skin a healthy-looking glow.
You can use a small amount of moisturizer on any part of your body to reduce dryness. You can apply it to your arms, legs, stomach, elbows, neck, and elbows.
Eye Cream
Pea-sized amount split between both eyes
Your eye area is thinner and more delicate than the rest of the skin. It is best to use a small amount of cream around both eyes. Apply a pea-sized amount to both eyes. Eye cream can move a bit so don't use too much to cause irritation. To avoid pulling or stretching, take care of the skin around your eyes.
SPF
Half-teaspoon amount to cover the neck and face
Too much sunscreen can cause you to not get adequate protection against harmful UV rays. For sunscreen on your face, it is best to use approximately one-half teaspoon. Your sunscreen should reach your neck so that it covers all exposed skin. As long as the sunscreen is appropriate for your skin and doesn't make your skin look and feel cakey, there is no need to use too much. You can actually be more effective with sunscreen if you use too much. The SPF number isn't what matters, but how you apply it.
Read More Natural Beauty Blogs
Our Signature Product
REVITALISÉ Nutrient Organic Face Oil
La Coéss® REVITALISÉ is a 100% pure and nourishing nutrients replenishing organic face oil. Sophisticated blends of 15 organic nutrient-dense, powerful botanicals into a silky-smooth texture delivers the exceptional power to revitalize, restore, protect and balance skin.