7 Unique Ways To Use REVITALISÉ Organic Face Oil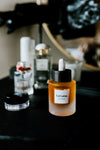 7 Tips For Getting The Most Out Of Your Face Oil
One quality that stays true for a good skincare product is that it doesn't contain unnecessary additives and fragrances. Face oil is more preferred than other skincare products because of the assurance that they are natural and can be used in several ways. Face oil do more than moisturize your face, and they support skin health and beauty in so many ways. 
In this post, we'll be talking about seven ways you can use La Coéss REVITALISÉ Nutrient Organic Face Oil for your ultimate skin health and beauty. Let's begin by finding out what is so special about this absolutely unique facial oil.
Why Is REVITALISÉ Organic Face Oil So Unique?

One of the reasons why REVITALISÉ Organic Face Oil is so unique is that it is made with 100% certified organic ingredients. These ingredients are grown in a healthy, closed-loop farming method for longevity. They are also free from synthetic chemicals.
Every bottle of Organic Facial Oil contains ingredients that are nourishing and packed full of nutrients, vitamins, and active compounds far beyond the regular organic ingredients. 
The process of creating Organic Facial oil is indeed creative and time-consuming.
Our formula uses ingredients with lower molecular weight, including Jojoba Oil, Rosehip Oil, and Sea buckthorn oil. We use these oils because they get absorbed into the skin quickly and penetrate it better. Beyond the low molecular weight ingredients, we also include ingredients with high-density compounds. The job of these ingredients is to boost its healthy by enhancing penetration of the other ingredients.These ingredients linger on the skin's surface and enhance penetration for improved moisture retention and a resulting soft skin.
Our blending process that combines all these ingredients helps us create oils with a powerful combination of all-encompassing phytonutrients. These phytonutrients have a silky-smooth texture, helping them glide on the skin, sinks in, provides deep nourishment, balance, and protects the skin.
There is no exception to people who can enjoy La Coéss REVITALISÉ Organic Face Oil. Even if you have harsh or sensitive skin, the oil will nourish your skin without causing any reactions on your skin.
7 Ways To Use REVITALISÉ Organic Face Oil 
Use Face oil For Signs Of Aging In The Neck Area 
The REVITALISÉ Organic Face Oil has many purposes, and one important one is that it tones and moisturizes the skin situated towards the neck region. Because this oil contains sage and olive, using it regularly improves signs of aging on the neck and supplies glow and suppleness to that area.
Use Face Oil For Chapped Lips
A lot of circumstances can cause our lips to get chapped, but the environment is often the guiltiest culprit. You can rest easy when your lip gets chapped because of the climate. Simply apply a drop of REVITALISÉ organic face oil on your lip and watch the skin get revived. It softens and soothes dry and chapped lips, especially those caused by dry climate and other environmental stressors. Using as little as a drop of this oil can improve and soften your lips.
Use Face Oil For Stretch Marks And Surgical Scars
REVITALISÉ organic face oil delivers intense moisture that repairs skin problems like surgical scars and stretch marks. The oil improves elasticity, skin firmness, and appearance. One prominent ingredient in this formula is clary sage oil, which has hydrating properties that improve and boost the appearance of damaged skin.
Use Face Oil For Dry Cuticles and Hands  
Our hands are probably the most-used external parts of our body because we use them for many things in the day. Using our hands for activities like washing exposes them to irritation and dryness. When this happens, the solution is to add several drops of face oil to your regular hand lotion. The oil supplies an extra moisture boost to your skin and makes the lotion application process smoother. Applying the oil directly to your cuticles can also help hangnails and dry skin.
Use Face Oil For Dull & Frizzy Hair 
The argan oil in REVITALISÉ can be a wonderful ingredient as a leave-in conditioner for your hair and is very helpful to your hair health. It can be used as a conditioner right after a shower or applied to dry hair to smooth flyaways. You can also use it as an overnight treatment for dry and brittle hair once every week for good results.
You can also use face oils to add moisture and give life to your hair strands if you have gone for a while without trimming your ends. However, don't be excessive with the oiling.
Use Face Oil For Foundation Base
Add one more step to your makeup process and be better off for it. You can apply your face oil to create a base before you apply your foundation and the rest of your makeup. The oil will improve your skin glow and keep it healthy under all the makeup.
Use Face Oil As Eye Serum & Serum Mixer
Facial oils can be very beneficial to your eyes, so they can double as eye creams to deliver healthy properties to your eye region. Apply sufficient amounts of face oil right under your eye and it will deliver the much-needed moisturization to that area while also smoothing your skin.
Top up the nourishment in your next serum by adding this face oil that is full of antioxidants. Add a few drops to your serum, mix them in properly, and apply the serum to your skin as usual to get improved benefits.
Leave a comment below, and let us know how you use your bottle of REVITALISÉ Organic Face Oil!
 RELATED: The Ultimate Guide to Face Oils and How to Choose One
Read More Natural Beauty Blogs
Our Signature Product
REVITALISÉ Nutrient Organic Face Oil
La Coéss® REVITALISÉ is a 100% pure and nourishing nutrients replenishing organic face oil. Sophisticated blends of 15 organic nutrient-dense, powerful botanicals into a silky-smooth texture delivers the exceptional power to revitalize, restore, protect and balance skin.