What Are Adaptogens - Have You Heard of Their Magic Power [Infographic]?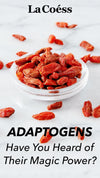 Although their name may be unfamiliar, adaptogenic plants are age-old herbs, roots and fungi that traditional Eastern medicine has relied on for centuries. Different adaptogens have different health benefits as all plants and herbs can offer us a unique blend of nourishment. Let's find out how they can benefit you against body stress in a few infographics.
Read More Natural Beauty Blogs
Our Signature Product
REVITALISÉ Nutrient Organic Face Oil
La Coéss® REVITALISÉ is a 100% pure and nourishing nutrients replenishing organic face oil. Sophisticated blends of 15 organic nutrient-dense, powerful botanicals into a silky-smooth texture delivers the exceptional power to revitalize, restore, protect and balance skin.