Top 6 Tips To Help Get Rid Of Under-Eye Bags [Infographic]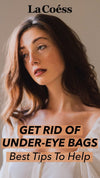 Learning how to reduce puffy under-eyes is no easy feat, but it can be done. Here we have 6 tips to address under-eye bags in infographic to help turn things around and minimize their appearance. You can pick up ways to address them the right way.
Read More Natural Beauty Blogs
Our Signature Product
REVITALISÉ Nutrient Organic Face Oil
La Coéss® REVITALISÉ is a 100% pure and nourishing nutrients replenishing organic face oil. Sophisticated blends of 15 organic nutrient-dense, powerful botanicals into a silky-smooth texture delivers the exceptional power to revitalize, restore, protect and balance skin.