6 Skin Care Rules For Mature Skin [Infographic]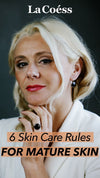 It's no secret that every age and stage comes with its own set of concerns. For mature skin, these concerns can come in the form of age spots, fine lines, sagging and wrinkles. The trick to embracing your aging skin is to follow certain skin care rules that will keep your complexion looking and feeling its best. Ready to care for your skin the right way? Keep reading, below, we're sharing 6 skin care rules for mature skin in an infographic.
Read More Natural Beauty Blogs
Our Signature Product
REVITALISÉ Nutrient Organic Face Oil
La Coéss® REVITALISÉ is a 100% pure and nourishing nutrients replenishing organic face oil. Sophisticated blends of 15 organic nutrient-dense, powerful botanicals into a silky-smooth texture delivers the exceptional power to revitalize, restore, protect and balance skin.