5 Tips For Adding Retinol To Your Skin Care Routine [Infographic]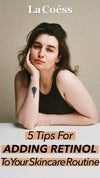 Retinol probably is one of the most popular anti-aging ingredient. It has so many benefits that skin care experts are constantly touting it as a must-have. But are you sure you're using retinol the right way? Check out infographic about these five simple tips below.
Read More Natural Beauty Blogs
Our Signature Product
REVITALISÉ Nutrient Organic Face Oil
La Coéss® REVITALISÉ is a 100% pure and nourishing nutrients replenishing organic face oil. Sophisticated blends of 15 organic nutrient-dense, powerful botanicals into a silky-smooth texture delivers the exceptional power to revitalize, restore, protect and balance skin.