6 Most Inspiring Over 50 Influencers To Follow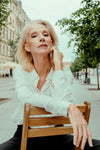 Life at the age of 50s has become the new normal of inspiration. With age, it's said that it comes with wisdom, grace, and an artful style. Here we have 6 inspirational bloggers and influencers who have reinvented their lives and are inspiring their followers on the online platforms with their incredible methods. They are proving that the 50s are the best years to come
 Alyson Walsh is known as a tastemaker who is among the most influential in the world of fashion. From her blog to her Instagram account, she displays gorgeous lookbooks about beautiful accessories and garments. She knows how to blend and navigate a wardrobe to its maximum style. Know Your Style: Mix It, March It, Love It is her latest book, which features the artist Ayumi Takahashi's style of illustrations. According to Alyson, fashion is about a person feeling comfortable in all the world's senses and doing something distinctive. She is one of the fashion influencers that you should follow right now to get inspired by her views and guide to style. Check out her social media platforms as well as her blog below for more information.
Instagram   |   Pinterest   |   Facebook   |    Blog
 Annette is the founder of her popular fashion blog, Lady of Style. She gets to inspire women who are aged over 40 years through her stylish posts and different pictures. Her blog, Lady of Style, is popular in Germany, and it's involved as being part of the blogger community called "Over40Collective," which includes bloggers and influencers who are aged from age 40 onwards. They came together to form a collective. Annette is also an Executive Assistance and a Travel Manager at NATO. She has gotten to inspire women of all ages when it comes to fashion. They can now look natural and pleasant. Go to her blog and social platforms to view the classic and elegant outfits that have gotten posted and check as well her reviews on the different products which you will get inspiration from and a lot of insights into her care routines that she offers.
Instagram
    |  
Pinterest
    |  
Facebook
    |   
Blog
The midlife style blogger is also a high school teacher, a wife, and a pet mom who lives in San Jose, California. She enjoys sharing her inspirations about her passion for fashion on her blog and her social platforms. She advises women to get help in their looks, which would make them feel the very best while in their midlife or senior years. Her style involves modern classics that get mixed pieces that are fun and trendy. Check out her blog to get inspired by the edgy, a bit rocker-like, and boho vibe designs of style.
Instagram    |   Pinterest    |   Facebook    |    Blog
Chicover50 started no long ago, but it has appeared to stand out is a favorite among many. Shauna shares her style and fashion tips by saying she loves dressing modestly, and her conscious style aims at not overdoing any look with the trends that come along. She believes in the bright colors and the bold patterns, which she mixes to form an art of crazier pieces. The very eclectic style of fashion might be your go-to-style that you need to check out if you love funky and colorful trends. Go to her platforms and check how you can transform your entire look with Shauna's sense of style.
Instagram    |   Pinterest    |   Facebook    |    Blog    |    YouTube
The Richmond based lifestyle and fashion blogger has been featured in Essence and Oprah Magazine. Her trend aims at women who are 40 years and above. The 61-year-old loves everything to do with fashion, and her Medley Style is where anyone can find all things, including flowers, way, and inspirational words that her audience enjoys. Her blog exists to inspire all women to become the best in their fashion styles as she shares her journey of ups and downs when serving fashion. Everyone needs to be authentic and step outside the box to take a chance on a fantastic look. Apart from her blog, she has several other platforms that you can check and follow her inspirations.
Instagram    |   Pinterest    |   Facebook    |    Blog
The long term blogger, traveler, and photographer writes about the world adventures she has taken on her blog Ottsworld, Huffington Post, Glamping.com, Savvy Aunty, Yahoo travel, Intrepid level, etc. Ott's has traveled to the seven continents, and she has continued to seek out the opportunities that involve adventure with the people. The unique opportunity comes with fears and benefits. Run to her website and other social platforms where you can view more about the work she does and how it's inspirational.
Instagram    |   Pinterest    |   Facebook    |    Blog    |    YouTube