3 Reasons Your Face Looks Puffy & How To Fix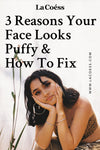 Waking up to a puffy face is super annoying, the build-up of fluid in the tissues of the face from lying down all night. But it could also point to other things, here are 3 main reasons cause your face looks puffy. If the puffiness is bothering you, there are things you can do - Gua Sha facial massage and cool compresses are helpful in the morning to wake you up and de-puff the skin.
Found this post helpful? Don't forget to share this "cheat sheet" on Pinterest!