The Vitamins You Should Add To Your Skin Care Routine [Infographic]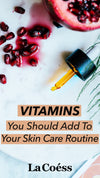 Glowing and radiant skin is a beauty goal we all want to achieve. Finding the right skin care ingredients to use is an easier way to do so. Try starting with understanding one ingredient group at a time. Here, we're sharing infographics about common vitamins used in skin care as well as some of our favorite ingredients in our face oil.
Read More Natural Beauty Blogs
Our Signature Product
REVITALISÉ Nutrient Organic Face Oil
La Coéss® REVITALISÉ is a 100% pure and nourishing nutrients replenishing organic face oil. Sophisticated blends of 15 organic nutrient-dense, powerful botanicals into a silky-smooth texture delivers the exceptional power to revitalize, restore, protect and balance skin.