How To Apply Face Oil To Wake Up Looking Rested & Refreshed [Infographic]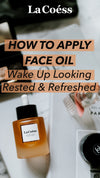 High-quality facial oils can nourish the skin to balance it out, which actually helps to stabilize the production of sebum. Face oil is great for locking in hydration, protecting the skin's natural barrier, reducing fine lines, and promoting a healthy, dewy glow. Learn how to apply your face oil at night to wake up with radiance and refreshed skin in a few infographics.
Read More Natural Beauty Blogs
Our Signature Product
REVITALISÉ Nutrient Organic Face Oil
La Coéss® REVITALISÉ is a 100% pure and nourishing nutrients replenishing organic face oil. Sophisticated blends of 15 organic nutrient-dense, powerful botanicals into a silky-smooth texture delivers the exceptional power to revitalize, restore, protect and balance skin.