How To Use Your La Coéss REVITALISÉ Organic Face Oil Like A Pro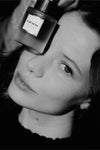 The ONE Face Oil You Need For Silky-Smooth Finish Skin
Face oil has been one of the best multi-tasking skincare formulas for a long-lasting hydrating and smooth skin. If you are in search of a multi-purpose oil that you can use throughout the year regardless of the weather restriction, you are in the right spot. Once you tried face oil and saw the benefits it was giving your skin, you can't live without it. We've come up with the seven best ways to apply the REVITALISÉ Organic Face Oil, besides just on your face.
01 / Sheer Genius - Mix with foundation
If you're not in the mood for a heavy coverage foundation, you can easily sheer out your foundation by adding 1 drop of La Coéss REVITALISÉ oil (for sheer to medium coverage) or 2 drops La Coéss REVITALISÉ oil (for sheer coverage) in it. Not only will it make your foundation moisturizing but will also give you a gorgeous healthy glow to your skin.
02 / A Helping Hand - As a cuticle oil
Dry cuticle beds can be a winter struggle for many of us. Your facial oil can work wonder to moisturize the dry area of cuticle bed. Add a few drops of La Coéss REVITALISÉ oil to your lotion to revive dry hands and cuticles.
03 / Relief Dry Skin & Prevent Its Return - Apply oil before you add a moisturizer to your skin
If you've never used facial oil before you apply any lotion or moisturizer, this method is a quick fix for dry flake skin. Use a lightweight oil like La Coéss REVITALISÉ oil that absorbs easily into your skin before you apply moisturizer. However, if you are using heavy oils, it is recommended only apply as the last step to seal in all your skincare.
RELATED: Should You Apply Face Oil Before Or After Moisturizer?
04 / Midday Touch-Up - Your best highlighter with skincare benefit
Skip traditional highlighter makeup and use facial oil instead to illuminate your complexion with a little of La Coéss REVITALISÉ oil on the top of your makeup. With a gentle, dabbing motion, apply the highlighter with your ring finger to the highest points of your checks. For a flawless glow.
05 / Smooth Out Split End - Use a few drops of facial oil to treat your dry and split end
Try your face oil to tackle your dry hair and split ends with a glossy shine. You can also add one drop of face oil to your styling products for an added hydration.
Read More Natural Beauty Blogs
Our Signature Product
REVITALISÉ Nutrient Organic Face Oil
La Coéss® REVITALISÉ is a 100% pure and nourishing nutrients replenishing organic face oil. Sophisticated blends of 15 organic nutrient-dense, powerful botanicals into a silky-smooth texture delivers the exceptional power to revitalize, restore, protect and balance skin.