How To Use Face Oil To Treat Dry Skin This Winter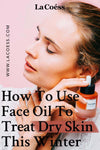 Dryness, flakes, redness, itching: the winter dry skin is something we all want get rid of. The best antidote: super nourishing face oils, which heal parched patches and repair your moisture barrier to prevent water loss. What's the best time to apply? how much to use? So you can survive winter with a healthy, dewy glow. Use this guide to help answer those questions.
Read More Natural Beauty Blogs
Our Signature Product
REVITALISÉ Nutrient Organic Face Oil
La Coéss® REVITALISÉ is a 100% pure and nourishing nutrients replenishing organic face oil. Sophisticated blends of 15 organic nutrient-dense, powerful botanicals into a silky-smooth texture delivers the exceptional power to revitalize, restore, protect and balance skin.