Feed Your Skin Its Vitamins and Minerals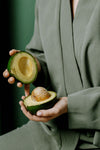 Healthy Skin Starts With Vitamins and Minerals
Vitamins and minerals are essential nutrients that our bodies simply cannot do without. Ideally, we get the nutrients by eating a varied and balanced diet. The vitamins and minerals are also essential for our skin health through the nutrient-dense, organic plants and extracts in skincare. Often time, we seek supplements to help us get the nutrients that we hard to get from the diet; it also makes sense to add them to our skincare routine to help enhance a radiant complexion.
How Vitamins and Minerals Support Healthy Skin
Vitamins and minerals are the skin and body's fundamental building blocks and are vital to total well-being. Healthy skin and body start with the balanced vitamins and minerals, which are necessary for the uptake of essential nutrients. Antioxidant vitamin C helps to brighten and support collagen levels in our skin; Vitamin A and retinol have been shown to help smooth skin, reduce fine lines and wrinkles; and Vitamin E is an all-around multitasker. The minerals are here to work with vitamins for the utilization of nutrients. It is very clear vitamins and minerals are crucial for healthy, glowing skin, which is why the formulas of La Coéss REVITALISÉ Nutrient Organic Face Oil are rich in the finest nutrient-dense essential vitamins and minerals.
Vital Vitamins In La Coéss REVITALISÉ Nutrient Organic Face Oil
Vitamin K
Can be found in Prickly Pear Seed Oil
Vitamin K is a fat-soluble vitamin nutrient, which means vitamin K can be penetrated effectively through fats and oils in the body. It is a vitamin that is crucial in helping different proteins generally function within the body. One of them is the coagulation factors that stop bleeding and lessen the appearance of dark circles and evening overall skin tone.
RELATED: You May Need More of This Vitamin in Your Skin Care Routine
Vitamin E
Can be found in Avocado Oil and Camellia Oil
Vitamin E supports the hydration of your skin cells and enhances long-term moisture retention. It also boosts the skin healing process when damage occurs to the skin. Vitamin E can increase the healing process for injuries, irritation, and skin burns by 50%.
RELATED: Want Healthy, Glowing Skin? You Need To Reach for Vitamin E
Vitamin A
Can be found in Carrot Oil and Rosehip Oil
Vitamin A slows down the breakdown of elastin and collagen that takes place as we age. Beta-carotene is a component of vitamin A, protects our skin cells from damage, thereby ensuring young and glowing skin.
RELATED: Vitamin A, Retinol and Beta-Carotene, Your Questions about Vitamin A Family are Finally Answered
Vitamin B
Can be found in Jojoba Oil
Jojoba oil contains vitamin-B complex that helps the body to fight free radicals. B vitamins also maintain the level of hormones naturally and balance the skin's natural oils. It also helps to speed up the wound and cut healing. It can help penetrate to soothe and soften the skin.
Zinc
Can be found in Chia Seed Oil
The presence of zinc in chia seed oil is potent nutrients to help reduce acne and other types of inflammation in the skin. It also helps toxins and metabolic waste to pass out of skin cells, and  help to produce necessary proteins like collagen, elastin, etc.
RELATED: The Beauty Benefits of Chia Seed Oil, the Superfood, Super Moisturizer
Read More Natural Beauty Blogs
Our Signature Product
REVITALISÉ Nutrient Organic Face Oil
La Coéss® REVITALISÉ is a 100% pure and nourishing nutrients replenishing organic face oil. Sophisticated blends of 15 organic nutrient-dense, powerful botanicals into a silky-smooth texture delivers the exceptional power to revitalize, restore, protect and balance skin.