Elevate Your Skin Care Ritual To A New Level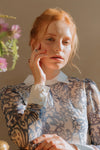 Best Ways For Your Elevated Skincare Routine
Practicing self-care is an essential part of not only taking care of our skin but also nurturing our emotional wellbeing. Especially if you are trying to find the balance between your work-at-home and life-at-home. Here are three simple ways you can do to find a place of ease, while you take care of your skin. Elevating your routine to make it more enjoyable and effective.
The Double Cleansing
Double cleansing may be a two-step cleansing method that only adds a few minutes to your usual regimen, but you get the most out of your skincare routine in skincare. It involves washing your face in two steps, first by using an oil-based cleanser, followed by a water-based cleanser. There's much more to cleansing twice than removing make-up, pollution, and dirt. Double cleansing is like a mini facial massage that helps stimulate lymph flow and circulation.
RELATED: 3 Most Promising Asian-Inspired Beauty Trends You Should Try
Relax With Jade Gua Sha Facial
Facial Gua Sha is a massage technique that was originated in China and can date back to the Ming Dynasty (1300-1600s). It's a simple skin care ritual that helps you disconnect and supports the practice of mindfulness. Gua Sha was designed to relieve tension in the body muscles, boost blood circulation, and encourage lymphatic drainage to banish bloat. It helps break up fascia, the connective tissue that hugs muscles but can sometimes interfere with optimal circulation.
How to Gua Sha Correctly
Start with a cleansed face and prep your skin with 5-10 drops of your La Coess Organic Face Oil.
Hold the gua sha at a 15-45-degree angle and scrape toward the edges of your face.
Repeat each stroke 5-10 times and enjoy this relaxing ritual 3-5 times a week. 
RELATED: The Inside-Out Glowing Skin Essential You Need To Know
Double Dose of Nourishment
If you're willing to really level up your beauty routine, try splurging on a water-based serum and an oil-based facial oil duo. The combination will be the perfect way to supercharge your self-care. Use a water-based serum that contains Hyaluronic Acid to help with hydration of the skin, first, and then use the La Coéss REVITALISÉ Nutrient Organic Face Oil to boost your radiance. La Coéss REVITALISÉ is a concentrated facial oil supplement for the skin, which includes a sophisticated blend of 15 nutrient-rich organic botanical oils. Loaded with essential fatty acids 3,6,9, lipids, antioxidants, vitamins, and minerals - all working cohesively to deeply nourish, protect, and restore skin to a more youthful and silky smooth texture.
Face oils have benefits far beyond facial care, it can be applying to your hair, cuticles, mixed with foundation or SPF.  
RELATED: How To Use Facial Oil: The Best Guide For Glowing Skin
Taking good care of your skin is easy when you have a balanced state of mind by immersing yourself in sensorial experiences. Light your favorite candle, listen to gentle music and try our three simple steps at-home rituals to elevate your beauty regime for your healthiest skin, body, and mind.
Read More Natural Beauty Blogs
Our Signature Product
REVITALISÉ Nutrient Organic Face Oil
La Coéss® REVITALISÉ is a 100% pure and nourishing nutrients replenishing organic face oil. Sophisticated blends of 15 organic nutrient-dense, powerful botanicals into a silky-smooth texture delivers the exceptional power to revitalize, restore, protect and balance skin.