9 New Year's Resolutions For Your Better Skin In 2021!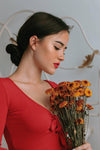 The best time to set new goals for yourself is at the beginning of the New Year. If you have been struggling with your skin, or maybe you want to change your whole skin care routine, 2021 is the best year to ensure you have glowing skin! 
To keep your skin stay glowing, healthy, and irritation-free requires a holistic skin care approach. This is why we have compiled nine best New Year skin care and beauty resolutions that you will feel able to easily integrate into your daily skin care routine. Let achieve those #skingoals this year!
Drink Up  
You know that drinking water is an essential habit that everyone should do, but do you take it seriously? Up to 80% of the working people do not take enough water every day (8-ounce glasses).
Inadequate intake of water can lead to negative consequences on your overall health, which includes your skin. Whenever you get dehydrated, your system organ draws moisture from your blood, while your blood gets water from your skin cells. This makes the skin look dry, and your eyes become sunken and darker. And time goes by; it fastens the aging process.
If your skin is not hydrated properly, it is prone to get wrinkles and susceptible to fine lines. You will be doing yourself a great favor by drinking nothing less than 64 ounces of cold water daily. You will be thankful you did!
Get Active
If you are into swimming, Pilates, Crossfit, boxing, or maybe you're just old fashioned run on the treadmill. Exercise is crucial to a healthy skin care routine.
Exercise increases blood flow in the body, it also adds oxygen to the skin cells, making them happy and healthy. Blood flow also removes waste from the body, including the free radical working cells. It is a form of blood cleansing from the inside.
And if you think that wasn't a strong enough reason to get your exercise done, it also does a great job in relieving you of stress. The reality is that stress causes skin issues by making you produce excess oil (this has to do with stress hormones), it causes clogged pores and acne. 
Start using SPF, Every. Single. Day.
This is one of those skin care resolutions that can't emphasize enough and worth repeating every single year. Even though it is wintertime, or maybe you are planning to wear a hat, daily SPF is a necessity. It does not only protect your skin from diseases; it slows down the aging process. Always keep your SPF on your vanity, so you do not forget to put it on every day.
Spread Your Skin Care Product Onto Your Neck, Hands, and Body Skin
Like many beauty-lovers do, you need to incorporate some products to take care of your face. Do you that your neck and hands are the first to show aging signs before other parts of your body do? While you care for your face, make sure you do the same for both and apply the same skin care product on them as you do to your face.
As we are about to enter 2021, your skin wellbeing should be a priority, just like you take your face seriously. Your body should be cleansed, exfoliated, and moisturized, just like you do to your face.
Give Yourself a Facial Massage (Gua Sha) at Least Once a Week
Even though you may already stick to your skin care routine pretty well, commit yourself to perform a facial massage with face oil at least once a week can make a whole difference. Not only will your skin look fresh, but a 15-minute break while you play music is a beautiful thing to do to take good self-care every week. Check what happened after 30 days of Gua Sha.
Pare Down Your Skincare Routine
Recently, the 12-step skin care routine has been all over the internet. However, as people began to get overwhelmed with the number of products, they started throwing some things away (We owe Maria Kondo gratitude for that). In 2021, take a look at the entire beauty and skin care products you have used in the previous year and dispose of those that are not giving the results you want. The reality is that you can comprise fewer than 6 products for your morning and night routine. Less can definitely be more, especially when it comes to skin care.
Stay Ahead of the Aging Curve
You can start using retinol earlier than you though
However, if you are below 20 years, you actually do not need retinol yet. We have created a dedicate skin care routines for 20s.
One of the most effective anti-aging skin care products is retinol. It removes dead cells and brightens the skin. It functions like an antioxidant, reduces acne, increases collagen production, and fights free radicals. You won't regret including it in your skin care routine.
Retinol is an intense product, if you want to search for plant-based retinol alternatives, click here for more information.
Start Incorporating Face oil Into Your Routine
Face oils are an often misunderstood skincare category. Many believe they can be an alternative to serum, or in addition to a moisturizer. From experience, my skin looks fresher when I use a face oil. No wonder the skin care routine in different cultures sees it as a priority in any regimen. Face Oils are made to be a multi-tasker to help build a strong skin barrier and combat skin aging. In 2021, consider investing in one so you can see and feel the difference on your face. 
Opt for Natural Skin Care Solutions
In 2021, why risk the harm when you can get natural skin care products that are effective and even better than the chemical-laden products found in today's market? We have more information about the long-term dangers of the widely used harmful ingredients. These include DEA, TEA, parabens, sulfates, and petrochemicals.
Make 2021 a year of the commitment of selecting beneficial skin care products that not only yields a positive result but is naturally produced, socially responsible, safe, and produced with the best possible standards.
Be Consistent
Everything takes time, and so it is with skincare before it starts showing the noticeable changes on your skin. Stay consistent with using it and give your body time to get used to it.
Allowing the changes to occur naturally will also save you from some unnecessary spending because you won't have to jump on different products.
Read More Natural Beauty Blogs
Our Signature Product
REVITALISÉ Nutrient Organic Face Oil
La Coéss® REVITALISÉ is a 100% pure and nourishing nutrients replenishing organic face oil. Sophisticated blends of 15 organic nutrient-dense, powerful botanicals into a silky-smooth texture delivers the exceptional power to revitalize, restore, protect and balance skin.